PM, Modi and Amit Shah in Prayer mode for God's favour
mangaloretoday network

Kedarnath, May 18: Prime Minister Narendra Modi, who is on a two-day visit to Uttarakhand, was photographed meditating in a holy cave near Kedarnath. Earlier today, the prime minister also offered his prayers at the Kedarnath temple. He is also set to visit the Badrinath shrine tomorrow before heading back to Delhi in the afternoon.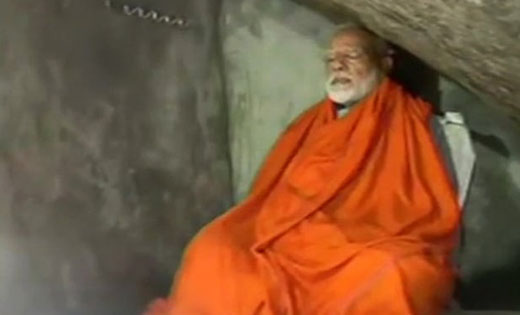 In pictures shared by the BJP Uttarakhand handle on Twitter, PM Modi, 68, is seen meditating in a cave seated on a bed and propped up by a pillow, dressed in saffron robes. Another picture shows the prime minister folding his hands and bowing in the cave.

Earlier in the day, the prime minister also reviewed the Kedarnath Development Project, undertaken after floods in 2013 ravaged the state. The state's BJP handle also shared a video of PM Modi, dressed in traditional pahari clothes speaking to officials about the ongoing project.

The Himalayan shrine, dedicated to Lord Shiva, has been visited multiple times by PM Modi during his term as prime minister.

The Kedarnath temple in Rudraprayag district reopened earlier this month to pilgrims after a six-month-long winter break.


Amit Shah Offers Prayers At Gujarat's Somnath Temple With Family

Accompanied by his wife, son, daughter-in-law and granddaughter, Amit Shah performed rituals at the temple dedicated to Lord Shiva.

Ahmedabad: BJP president Amit Shah offered prayers at the famous Somnath temple in Gujarat along with his family members today, a day before the last phase of the Lok Sabha elections.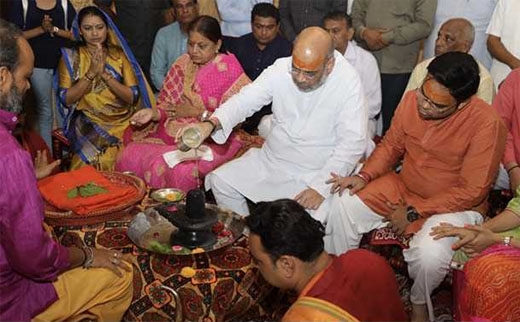 Accompanied by his wife, son, daughter-in-law and granddaughter, he performed rituals at the temple located in Gir-Somnath district and dedicated to Lord Shiva.

As part of his Gujarat visit, Amit Shah will spend a day with his family members at their residence in Ahmedabad before returning to Delhi on Sunday, party spokesperson Prashant Vala said.

Amit Shah is also a trustee of the Shree Somnath Trust, that manages the temple.

BJP's candidate from Gandhinagar, Amit Shah Lok Sabha seat, came on the eve of the conclusion of the seven-phase elections.

Elections in Gujarat were held in a single phase on April, 23. Counting of votes will take place on May 23.