No contact yet with moon lander, next priority is Gaganyaan: ISRO Chief K Sivan
Mangalore Today News Network
New Delhi, Sep 21, 2019: The Indian Space Research Organisation has not been able to contact Chandrayaan 2 lander Vikram, ISRO chief K Sivan said on Saturday as the deadline to contact the lander, which had a 14-day mission life, ended. The premier space agency made a historic attempt to soft land on the lunar surface on September 7, NDTV reported.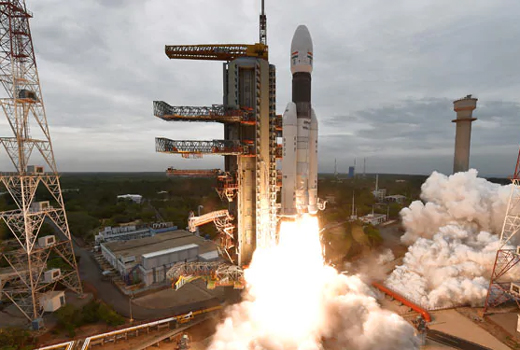 "Chandrayaan 2 orbiter is doing very well. There are eight instruments in the orbiter and each instrument is doing exactly what it meant to do. But we have not been able to establish communication with the lander yet," Dr Sivan told reporters.

"We have to understand what happened to the that lander... that is our first priority," Mr Sivan said. "Our next priority is Gaganyaan mission," the top space scientist in the country added.

The Chandrayaan 2 mission has achieved 98 per cent success, he further said. "Why we are saying Chandrayaan-2 achieved 98 per cent success is because of two objectives -- one is science and the other technology demonstration. In case of technology demonstration, the success percentage was almost full," he told reporters in Bengaluru, before heading to IIT- Bhubaneswar to attend its 8th convocation ceremony.

The ISRO is focusing on another moon mission by 2020, Mr Sivan said.

On Saturday morning, lunar night began to fall in the south polar region of the moon where the lander was attempting a descent on September 7 and lost contact with the ground station. This would make it impossible for the lander to get any sunlight and generate power for its functioning, ISRO had said earlier. During the lunar night, temperatures could drop to as low as minus 200 degrees, which could freeze the lander's instruments.

On Thursday, the premier space agency said a national-level committee of academics and ISRO experts experts are "analysing the cause of communication loss" with the lander. ""#Chandrayaan2 Orbiter continues to perform scheduled science experiments to complete satisfaction. Meanwhile, the National committee of academicians and ISRO experts is analysing the cause of communication loss with #VikramLander," the ISRO tweeted.

Chandrayaan 2 captured images of the lunar region where lander Vikram made an unsuccessful attempt to soft-land, NASA confirmed on Thursday. The images were captured by NASA's Lunar Reconnaissance Orbiter (LRO) spacecraft during its flyby on September 17, the US space agency said.

India had expected to make space history with the Rs. 1,000-crore Chandrayaan 2 mission.

A successful soft landing on the moon's surface would have made the country only the fourth - after the United States, Russia and China - to achieve the feat. It would also have made India the first country to complete a soft landing near the South Pole on its first attempt.