Naxalites have now come to cities, are trying to influence people: Rajnath Singh
Mangalore Today News Network
New Delhi, Sep 01, 2018 : Union home minister Rajnath Singh said on Saturday that Maoist rebels, who have hitherto operated from rural and remote areas, have entered the cities because of a crackdown by the central government and are now trying to influence public opinion and spread their ideology in urban India.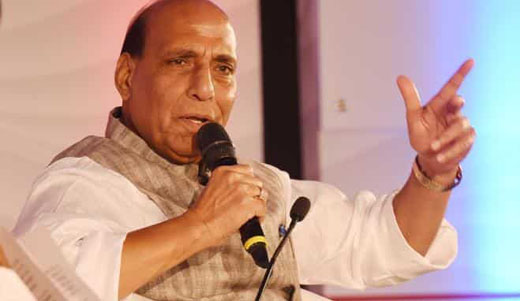 "From 126 districts earlier, Naxalite activities have now been restricted to just 10-12 districts because of the action taken by us. But now they [the Maoists] are adopting a new strategy. They have come to the cities and are trying to influence people," Singh said at the Shikhar Samagam event organised in Lucknow by Hindi daily, Hindustan, a sister publication of the Hindustan Times.

"I have received this information through intelligence agencies," Singh said.

The arrest of five prominent human rights activists this week — P. Varavara Rao in Hyderabad, Vernon Gonsalves and Arun Ferreira in Mumbai, Sudha Bharadwaj in Faridabad and Gautam Navalakha in Delhi — has led to the coinage of the term 'urban naxals,' as Maoists are known in India after the West Bengal village where a violent left-wing rebellion broke out in the 1960s.

The home minister justified the arrest of the five in connection with the January 1 violence in Bhima Koregaon near Pune where members of the Maratha and Dalit communities clashed.

"Such arrests have been made before. The charges are serious, like conspiracy to destabilise the government, ideology to promote violence. But now the matter is before the Supreme Court and it will take a decision on it," Singh said.

When asked about government attempts to control social media, especially when it was the Bharatiya Janata Party (BJP) that had made maximum use of it to come to power in 2014, Singh said, "We did not win because of social media but because of the work [Prime Minister Narendra] Modi had done in Gujarat. We are not against social media, but our responsibility is to stop fake news, pornography etc. How do we allow children to see such things?"

So-called fake news spread on social media and messaging platforms has been blamed for triggering mob violence in parts of the country that led to the lynching of suspected cattle thieves and smugglers and child lifters, prompting the government to intervene.

The home minister also used the occasion to highlight the achievements of the Modi government, noting that the economy had posted 8.2% growth in the first quarter of the current fiscal year -- the fastest pace in two years -- despite an adverse global market scenario, a falling rupee and rising fuel prices.

Singh said the rupee's depreciation against the dollar had been a fallout of the sharp drop in the value of the Turkish lira. "But we will turn this situation also to our advantage and find a way out very soon by encouraging exports," said Singh and added: "...unlike during the Congress regime, under a similar situation, investors are not wary of investing in the country."

"Our government is moving forward by taking India's transformation and resolve from a developing to a developed country," he said.

On mob lynchings

"No country can guarantee zero violence. But strong measures are being taken to prevent such incidents. A committee formed by me under the Union home secretary has submitted its report on the basis of which directives have been issued to all state governments."

Jammu and Kashmir

"We have managed to curtail terrorist violence and check cross-border infiltration but attempts to divide and destabilise India are continuing from Pakistan," he said.

On ties with Pakistan under Imran Khan

"India has always taken the initiative in fostering good relations with all its neighbours. He [Imran] has played good cricket. But politics is different. I wish Allah gives him strength in his new role."

National Register of Citizens

"The government has the right to know how many people have come from across the border and are now living [in India] by posing as Indian citizens".

He said it was proof of the fairness of the process that despite the fact that the names of four million people in Assam had not been included in the NRC's final draft, no incident of violence had been reported from Assam.

On differences with allies

"It is normal to have small differences in a family. I believe Shiv Sena will stay with us."

On proposal for simultaneous polls to Lok Sabha and state assemblies

"It is possible to have simultaneous Lok Sabha and assembly polls; nothing can be better than this."

SC/ST Act

The Scheduled Caste and Scheduled Tribe (Prevention of Atrocities) Act will not be used to harass anyone, Singh said..

Caste census

A caste census is essential to ensure different caste groups receive the benefits of reservation in proportion to their population, Singh said.

Fuel price increase

A solution will be found to increasing fuel prices, Singh said.


No curb on democratic rights

He allayed fears on any curbs on democratic rights in the wake of the recent arrest of human rights activists. "I want to clarify that there will never be any effort to compress the pressure cooker. All have the right to speak, do whatever they want in a democracy but no one will be allowed to destabilise the country or create violence."



courtesy: HT