Myanmar must end 'genocide' campaign against Rohingya Muslims, ICJ rules
Mangalore Today News Network
Myanmar, Jan 24, 2020: Emergency measures must be implemented by Myanmar to end what has been described as a genocidal campaign against Rohingya Muslims, the International Court of Justice has ruled in a first victory for the country's accusers.

Judge Abdulqawi Ahmed Yusuf said the court found the Rohingya remain "at serious risk of genocide", Yahoo reported.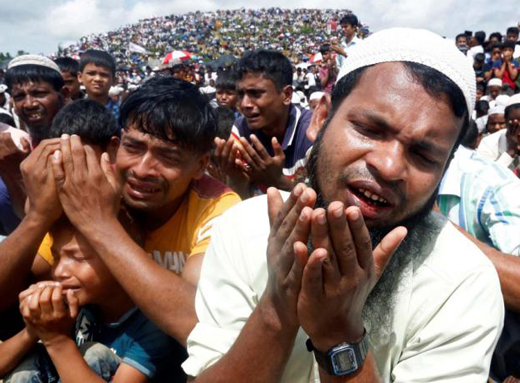 The panel of 17 judges unanimously supported imposing measures on Myanmar to ensure its military do not commit acts of genocide, and take measures to prevent killings and serious harm to the Rohingya.

Myanmar was ordered to preserve any evidence of crimes that could be used by the court in later hearings and to report to the court on all measures it had been ordered to take within four months, and then report every six months as the case moves through the UN's highest court.

The court added its order was binding and "creates international legal obligations" on Myanmar.

Human rights activists welcomed the unanimous decision.

"The ICJ order to Myanmar to take concrete steps to prevent the genocide of the Rohingya is a landmark step to stop further atrocities against one of the world's most persecuted people," said Param-Preet Singh, associate international justice director of New York-based Human Rights Watch.

"Concerned governments and UN bodies should now weigh in to ensure that the order is enforced as the genocide case moves forward."

Nicholas Bequelin, Amnesty International's South Asia regional director, said: "Today's decision sends a message to Myanmar's senior officials: the world will not tolerate their atrocities, and will not blindly accept their empty rhetoric on the reality in Rakhine State today.

"An estimated 600,000 Rohingya who remain there are routinely and systematically denied their most basic rights. They face a real risk of further atrocities.

"Myanmar must comply with the ICJ's ruling and take immediate action to cease ongoing violations against the community and to prevent the destruction of evidence."

Aung San Suu Kyi, Myanmar's de facto leader, admitted war crimes may have been committed but denied genocide in an article published hours before the ruling.

In an opinion piece published in the Financial Times, Ms Suu Kyi claimed refugees had exaggerated the extent of abuses against them ans said Myanmar was the victim of "unsubstantiated narratives" by human rights groups and UN investigators.

​Myanmar's crackdown on the Muslim minority saw some 730,000 flee in just two years, forcing them into squalid camps in across the border in Bangladesh.

Gambia, which is bringing the case against Myanmar at The Hague on behalf of the Organisation of Islamic Cooperation (OIC), asked for Thursday's emergency ruling in order to immediately halt any ongoing persecution of the Rohingya, and to preserve possible evidence of genocide.

At hearings last month, lawyers for Gambia used maps, satellite images and graphic photos to outline what they called a coordinated campaign of murder, rape and destruction designed to drive the Rohingya out of the western Rakhine state, which has been their home for generations.

Myanmar does not deny there was some wrongdoing by its military, but it frames them as an unfortunate result of a necessary armed response to repeated attacks on infrastructure by Rohingya militant groups.

A report produced days ago by an "independent commission" set up by Myanmar's government found evidence of war crimes but no indication of an intent to commit genocide – crucial for such a charge.

A full ruling on the charge of genocide could take years – and is unlikely to be derailed by the Myanmar commission's report, which Human Rights Watch described as "what would have been expected from a non-transparent investigation by a politically skewed set of commissioners working closely with the Myanmar government".

Ms Suu Kyi appeared at the International Court of Justice hearings last month to defend the military that once held her under house arrest for 15 years, earning her a now-shattered reputation as a pro-democracy icon and the 1991 Nobel Peace Prize.

She told judges the mass exodus of Rohingya to Bangladesh was to be regretted, but said it followed "coordinated and comprehensive armed attacks" by militants. She urged judges to drop the genocide case and allow Myanmar's military justice system to deal with any abuses.

But Paul Reichler, a lawyer for Gambia, cited a UN fact-finding mission that found military "clearance operations" in Rakhine state spared nobody. "Mothers, infants, pregnant women, the old and infirm. They all fell victim to this ruthless campaign," he said.

Gambia's justice minister Aboubacarr Tambadou, one of the figures instrumental to bringing the ICJ case, had urged the court to act immediately and "tell Myanmar to stop these senseless killings, to stop these acts of barbarity that continue to shock our collective conscience, to stop this genocide of its own people."

As far as the Rohingya themselves are concerned, the threat from Myanmar is still very much real. They mostly live in the cramped, sprawling tented homes of Cox's Bazar, in what has become the largest refugee camp in the world.

Yet despite a lack of education and work prospects in the camps, they have rebuffed repeated attempts to agree terms for them to return to Rakhine, saying they still do not feel safe going back. It is just possible today's ruling might, if implemented, alleviate some of their fears.