Muslims Kar Sevaks arrive in Ayodhya with bricks for construction of Ram Temple
Mangalore Today News Network
Ayodhya, Apr 21, 2017: Amid heightened expectations that there will be an amicable solution to the Ram Janmbhoomi-Babri Masjid dispute, a group of Muslims under the banner of Muslim Kar Sevak Manch (MKM) arrived in Ayodhya on Thursday evening with a truck full of bricks for the construction of a Ram temple.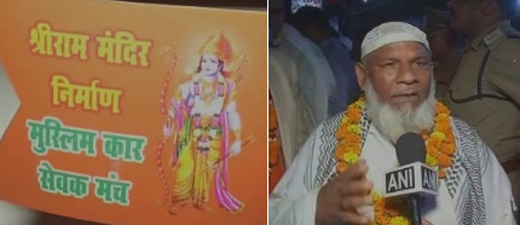 People of Ayodhya were left amused when they saw the members of the group going around the town chanting 'Jai Shri Ram'.

Azam Khan, president of Sri Ram Mandir Nirman Muslim Kar Sevak Manch, said that they want to aid in the construction of a Ram temple. Members of the group said they had come from Lucknow, Basti and other nearby districts.

After the police disallowed their plea to enter the area, on the grounds that the Ram Lalla temple was closed for the day, they tried to contact local members of the Vishwa Hindu Parishad to hand over the bricks for safe keeping, reports said.

Later, the district administration persuaded them to return to their homes.

Khan had recently hit the headlines when he put up posters in Lucknow in support of the construction of a Ram temple in Ayodhya.

Importantly, Uttar Pradesh Chief Minister Yogi Adityanath has offered his government's help to resolve the contentious Ram temple issue and called for both sides to re-establish dialogue to settle the lingering dispute.

He also supported the Supreme Courts recent observations on an out-of-court settlement of the dispute and said, "Both the sides should re-establish dialogue and resolve the matter.

The apex court had said that Ayodhya dispute was a "sensitive and sentimental" issue and suggested that it should be resolved amicably through dialogue between the parties.
Courtesy: Zeenews