Mumbai: Help Pours in for Bus Driver's Twins Who Cracked IIT-JEE
www.mangaloretoday.com
Mumbai, June 21, 2014(NDTV): Their father may not be able to comprehend the scale of his sons' achievement, but the rest of the world certainly has. The day mid-day reported about 18-year-old twins Ram and Shyam, sons of bus driver Ramashankar Yadav, who have passed the JEE Advanced exams but are struggling to fund their education with their father's meagre Rs. 8,000 salary, help began pouring in from all corners.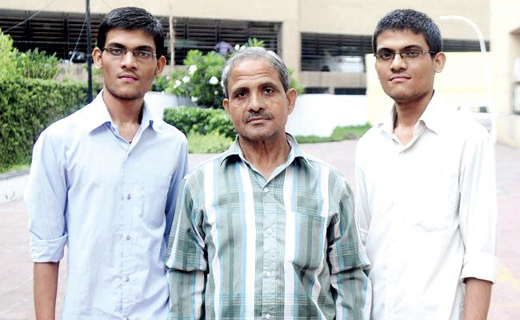 Photo Credit: Mid-Day.com


Institutes, corporate houses and individuals from across the country called up the twins as well as mid-day yesterday and offered to help fund their education. "People from our management read about the brothers and we are very keen on helping them.

Both boys seem to be doing really well academically and lack of funds should not be a hindrance," said Meera Isaacs, principal of Cathedral & John Connon School in Fort. Similarly, many other people contacted the mid-day office in order to touch base with the boys and help them monetarily.

"I have been receiving calls all day and I can't imagine how so many strangers agreed to trust us and fund our education. My father was worried that we would have to give up on our dream since we couldn't afford the fees. I am so happy that there are so many angels who have come to our rescue," said Ram Yadav, one of the brothers.

"My parents, who only knew that we had passed an exam and did not know the importance of IIT JEE, are still not sure what is happening. All they know is that we can continue our studies now, and this has made them very happy," added Ram.

Will power
Residents of Bhiwandi, both boys managed to score well in their class X and XII board exams without the help of any coaching classes. Their IIT-JEE entrance exam training was thanks to a 100% scholarship provided by FIITJEE based on an aptitude test.

Both brothers want to pursue their education at one of the Indian Institutes of Technology (IITs) and take up research in particle physics and space. "We will work very hard to make sure that we make everybody who has trusted us proud of our work and achievements," said Ram.