Monsoon progress slow, move to check wastage of water
Mangalore Today News Network
Pune, June 24, 2014: A day after Deputy Chief Minister Ajit Pawar hinted at likely water cuts in the city due to delayed monsoon and its faint progress, the Pune Municipal Corporation administration has decided to check misuse of water. Monsoon has not yet caught enough steam to replenish the dams that that supply water to the city.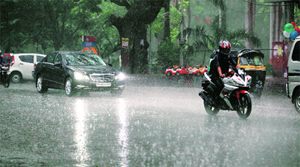 "The water level in dams supplying water to city has gone down due to delayed monsoon. The storage is 2.01 TMC and 200 MLD of it has been discharged through canal to meet the needs of annual pilgrim to Pandharpur. Only 1.80 TMC of water is available for drinking purpose," said Municipal Commissioner Vikas Deshmukh on Monday.

Deshmukh said that water available in the dam was enough to meet the city's demand till July 15 but the delayed monsoon has forced the civic administration to plan streamlined supply till July 31. "The citizens have to use water carefully to ensure available storage can be utilised in a situation if monsoon is delayed further," Deshmukh said.

He issued directions to all ward offices to check misuse of water and ensure drinking water supply is not used for washing vehicles or gardening.

City Engineer Prashant Waghmare said the civic administration has started planning management of available water reserves including private wells to meet the demand for the next few months.

"PMC will explore the use of water in wells in the civic jurisdiction," he added.

Earlier, in summer months and before the monsoon replenished dams, PMC administration had to implement water rationing. It had decided to penalise citizens misusing water. PMC had restricted supply through tankers fearing private water supply tankers use the opportunity to fleece citizens. It explored borewells to meet the demand. "We will take all necessary steps as the situation arises. Borewells will be used to meet demand," said a civic officer.

Earlier, elected representatives of the civic body had sought information from the civic administration about water availability.