Modi seeks 'skill, scale and speed' to compete with China
Mangaloretoday.com/IT
New Delhi, June 09: Prime Minister Narendra Modi on Sunday said the country needed skill, scale and speed to compete with China.

"We need to understand demographic dividend of our nation, if we want to progress our nation. We need to stress upon three factors, Skill, Scale & Speed, if we look forward to compete with China," he said at a book launch function, a day before he meets visiting Chinese foreign minister Wang Yi.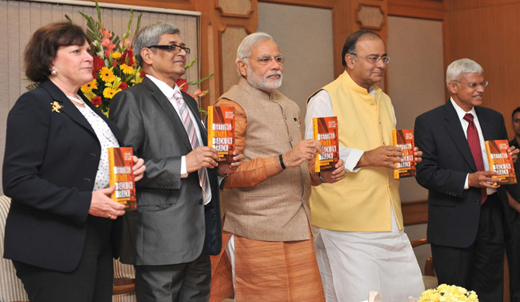 He released 'Getting India Back on Track: An Action Agenda for Reform' edited by Bibek Debroy, Ashley J. Tellis and Reece Trevor and published by Carnegie Endowment for International Peace.

Modi said the input of intellectual think tanks should be substantially enhanced for better policy frameworks.

He said in infrastructure, the focus needed to shift from highways to "i-ways" and optical fibre networks.

He said cities in the past were built on river-banks.

They are now built along highways. But in future, they will be built, based on availability of optical-fibre networks and next-generation infrastructure, he said.

The Prime Minister said urbanisation should not be treated as a problem, but as an opportunity.

"If we have to generate employment and change for the better, we plan to build 100 smart cities."

The Prime Minister cited three colours of the National Flag to suggest agendas of growth.

Beginning with green, he said we need to bring about a second green revolution - focusing on increased agro-productivity, value addition, agro technology, and decentralization of warehousing.

Referring to white, he said a white revolution must now focus on increasing milk productivity, and developing a support system for ensuring cattle health.
He said saffron represented energy. "We need a saffron revolution that focuses on renewable energy sources such as solar energy, to meet India's growing energy demand."

"I know when I say saffron, people here become alert. But saffron is a symbol of energy," he said.

Inspired by the blue colour of the Ashok Chakra, he said the blue revolution should focus on the fisheries sector, including ornamental fish.

Modi also stressed on the need for water conservation, and emphasised the importance of micro-irrigation, which would lead to "per drop, more crop."
He said that micro-irrigation had been successful in improving productivity and quality in crops like sugarcane in Gujarat.

He said there was need to exploit the demographic dividend, as 65 per cent of our population was below 35 years of age.

For this skill development needs to be a priority area. Referring to skills such as teaching, nursing and paramedics, he said good teachers were one of the biggest needs of society, but there are very few good teachers available.

Can India become an exporter of good teachers who would capture the imagination of an entire generation globally, the Prime Minister asked.

Talking about the need to combat the challenge of global warming and climate change, the Prime Minister said that a civilisation that treated rivers as mothers did not need to learn about environment protection from a western mindset.