Massive hunt for UP gangster sighted in Hotel near Delhi, bounty doubled
Mangalore Today News Network / NDTV
Faridabad, July 08, 2020: Notorious gangster Vikas Dubey, the main accused in the cold-blooded ambush and murder of eight policemen last week in Uttar Pradesh's Kanpur, was seen at a hotel in Haryana's Faridabad near Delhi on Tuesday, police said.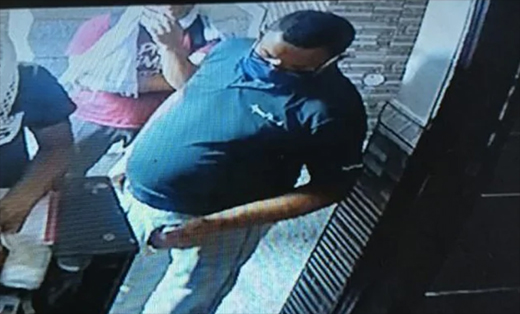 On Tuesday afternoon, raids were conducted at the Faridabad hotel and three men were arrested during an encounter. The hotel manager said that a man resembling the wanted gangster had left the hotel before the cops reached. Police later confirmed the man was Vikas Dubey.

Romi, the hotel's manager, told NDTV: "Yesterday, two people came at around 12:30 pm. One of them showed an identity card, the photo was not clear. I told them this ID can't be used. I hadn't seen Vikas Dubey before this. The cops came at around 4:30 pm and asked for Dubey's room details. They took the security footage along with them."

A CCTV footage recovered by the police shows Vikas Dubey wearing a mask. Of the three men who were arrested on Tuesday, Ankur and his father Shravad helped the notorious criminal in hiding; Prabhat is from his village, officials said. 44 live cartridges and four pistols were recovered from those arrested and two of the pistols were looted from the UP Police.

Twenty-five teams of the UP police are conducting raids to arrest Dubey, who has been missing since Friday's massacre. The bounty on him was doubled to Rs 5 lakh today from Rs 2.5 lakh.

Two cities in Haryana - Faridabad and Gurgaon - near Delhi are on a high alert and the Delhi Police has also been alerted amid speculation that the notorious criminal may surrender in the National Capital Region.

A close aide of the UP gangster - Amar Dubey - was shot dead early Wednesday morning during an encounter by UP's Special Task Force (STF) in Hamirpur district, about 200 km from state capital Lucknow. Another aide - Shyamu Bajpai - was arrested in a separate encounter in Kanpur.

On Friday, 50 policemen from three stations had gone to UP's Bikru village in Kanpur, 150 km from state capital Lucknow, in search of the politically-connected and wanted gangster charged in 60 criminal cases including murder, kidnapping, extortion and rioting.

A raid was planned at his village after he was accused in a fresh attempt to murder case.

A Deputy Superintendent of Police, Devendra Kumar Mishra, three sub-inspectors and four constables were killed during the ambush by the gangster and his aides who had put up road blocks on the routes that lead to the village. Once the policemen managed to get to the village, they were fired at from rooftops by shooters who were ready for them.

Amid allegations that Dubey, said to be in his 50s, was tipped off about the raid on Friday by insiders, 68 policemen have been removed from Kanpur's Chaubeypur police station.

Dubey's Bikru village comes under the jurisdiction of the Chaubeypur police station.

Anant Deo, a former chief of the Kanpur police, has also been transferred by the UP government. Mr Deo -- a Deputy Inspector General with the STF - has been shifted to the Provincial Armed Constabulary in Moradabad. He allegedly ignored a letter, supposedly written in March by a junior officer Devendra Mishra, the Deputy Superintendent of Police who was murdered on Friday.

His being the DIG-STF was seen as "a conflict of interest" as the STF is probing the Friday's massacre.

In the letter, Devendra Mishra had flagged that policemen, especially Vinay Tiwari, the Station Officer of Chaubeypur police station, were helping the gangster. The letter had also warned of a "big incident" if the complaint was ignored. A copy of the letter is being widely circulated on social media. Vinay Tiwari was suspended on Sunday.