Man who raped nun 11 years ago arrested in MP
Mangalore Today News Network
Madhya Pradesh, Apr 21, 2017: Police in central India's Madhya Pradesh state nabbed a man convicted in the gang rape of four Catholic nuns, 11 years after he absconded after being granted temporary bail.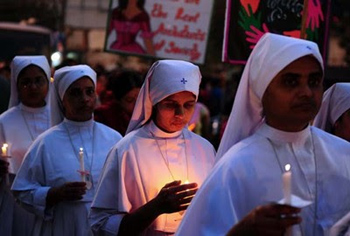 Mahesh Chandra Jain, the top police official of Jhabua district, told media that his men arrested Pidiya Singadia on April 18.

Singadia was one of 18 people convicted of gang raping the nuns in tribal-dominated Jhabua district in 1998.

The district court of Jhabua in April 2001 sentenced several people, including Singadia, to life in prison and eight more were given prison terms of two or three years each.

Singadia, jailed at the Indore Central Prison, was granted 10 days temporary release, but he did not return. The police had been hunting him since and offered a reward of 10,000 rupees (US$200) to whoever helped catch him.

Jain said Singadia moved between Madhya Pradesh, Gujarat and Rajasthan working as a daily wager, occasionally visiting his native village. Someone alerted the police about his presence in the village, leading to the arrest.

"We welcome the police action even if it has taken years," Bishop Basil Bhuria of Jhabua told media.

Bishop Bhuria said the arrest has "strengthened our faith in the system." He said Christians, a minority in the state, have faced many violent attacks from right wing Hindu groups. "This action, obviously, boosts our morale and trust in the police," he said.