Let's debate, says BJP's Ravi Shankar Prasad after Manmohan Singh's 'crossing the limit' remark
Mangalore Today News Network
New Delhi, Sept 10, 2018 : The ruling BJP at the centre on Monday sharply criticised the opposition-sponsored Bharat bandh against rising fuel prices and accused the Congress and opposition parties of taking to violence because people didn't support the shutdown.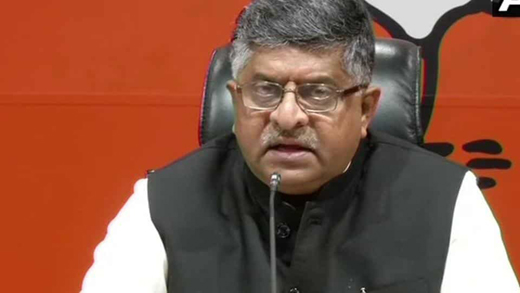 Law minister Ravi Shankar Prasad described the fuel price hike as a "momentary difficulty" but did not indicate any possibility of a duty cut by the centre. The centre had already cut excise duty on fuel by Rs 2 in October last year, he said, adding that it is for the states to take a call on reducing state taxes on diesel and petrol.

"Why the people of India are indifferent to Bharat Bandh? They understand the rise in fuel prices, though temporary, is because of factors beyond the control of the Indian government and ordinary Indian," Union Law Minister Ravi Shankar Prasad told the media, describing the spike in fuel prices as a "momentary difficulty".

This, the minister insisted, had unnerved the Congress and other opposition parties and prompted them to resort to violence.

"Everyone has a right to protest but what is happening today? Petrol pumps and buses being set ablaze, putting to risk lives," law minister Ravi Shankar Prasad said at a Press conference after a Congress-led event to protest the hike turned into a show of opposition unity in the national capital.

The minister also made a pointed reference to early reports that a child died after an ambulance was stuck in the protests in Jehanabad. "Who is responsible?" he asked.

Prasad suggested that the central government would not push state governments to cut taxes. "We should leave it to their wisdom... their compulsion of social development is equally important," he said.

Hours earlier, Congress president Rahul Gandhi had led the opposition attack on the government blaming higher fuel prices and a falling rupee currency on the prime minister's policies.

"The rupee has never has been weaker in 70 years of independence," Gandhi said at a protest meeting of nearly 21 political parties. Speaking at the same venue earlier, former prime minister Manmohan Singh said circumstances show that the situation had gone beyond the government's control.

"Farmers, businessmen, youth are facing crises in their respective fields. The government has failed miserably in fulfilling the promises made to common people.... The time has come to change the party in the Centre and this will happen very soon," the former prime minister said at the protest rally at the Ramlila ground.

"The Modi government has done a lot which is not in the national interest. Now, it has crossed the limit and time is coming to change it," he added.

The law minister responded to the attack from Dr Manmohan Singh with a challenge to engage in a full-fledged debate in parliament on the state of the economy rather than adopt the shoot-and-scoot approach of the congress president.