Laugh Renuka laugh, let them cry hoarse, we will have the last laugh: BJP's Shatrughan Sinha
Mangalore Today News Network
Feb 13, 2018: The BJP's in-house rebel has done it yet again. In a scathing tweet targetted at his own party, BJP MP Shatrughan Sinha expressed his solidarity with Congress leader Renuka Chowdhury, whose spirited laughter during Prime Minister Narendra Modi's speech in Parliament has snowballed into a massive row.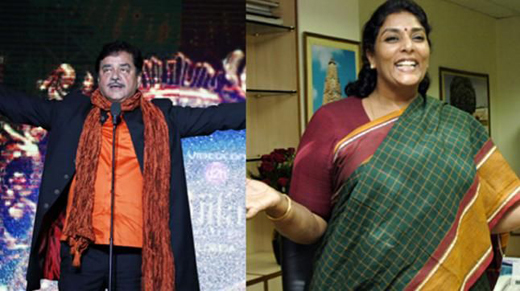 "Laugh Renuka laugh! We love you, we're fond of you and wish you well. Don't worry, be happy!" Shatrughan Sinha posted on Twitter in yet another defiant display of his fondness for the enemy.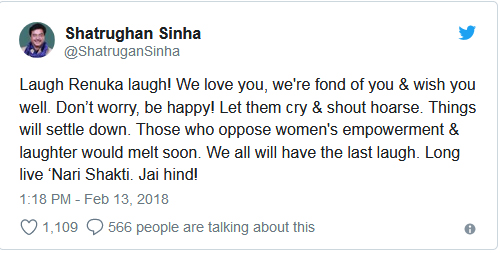 Sinha has earlier posted such encouraging remarks for Rahul Gandhi and other Opposition leaders too in what is seen as his constant attack on the current BJP leadership.

And then, in the same tweet, Sinha went for the BJP's jugular. "Let them cry and shout hoarse. Things will settle down. Those who oppose women's empowerment and laughter would melt soon. We all will have the last laugh. Long live 'Nari Shakti. Jai hind! (sic)," the Patna Sahib MP said.

In Parliament on February 7, Modi had taken a dig at the fiesty Renuka Chowdhury, saying her laughter reminded him of the epic Doordarshan serial, Ramayana. As Modi tried to deny the previous Congress government any credit for the Aadhaar programme, Chowdhury burst into a guffaw, drawing disapproval of Rajya Sabha Chairman M Venkaiah Naidu.

"Let her laugh... It is for the first time after the Ramayana serial that we are having the good fortune of hearing such a laughter today," Modi had said, apparently hinting at a negative character in the Ramayana serial, aired in the 80s.

"If you have some problem, go to a doctor, please," an irritated Naidu had also told Renuka Chowdhury, who later said there was no GST on laughter and that she did not need anyone's permission to laugh.

"There were hashtags like #Laugh like Surpankha, #Lol is a passe, and #Laugh Like Renuka Chowdhury. I am a five-time MP and the Prime Minister draws a parallel of me with a negative character. But he forgets that the women today have changed and they know how to speak for themselves. This shows his mindset towards women," Chowdhury had told reporters.

"If you are right, it resonates all over. That's what is happening now... There is no rule on how and when. You laugh... and there is no GST on laughter. I don't require permission to laugh after being a five-time MP. I have shattered the myth of being stereotyped," she added.