LS Phase 7 Voting: About 61% polling recorded till 6 pm, violence in Bengal, Bihar reported
Mangalore Today News Network
New Delhi, May 19, 2019: The seventh and final phase of voting in the Lok Sabha Election 2019 took place in 59 constituencies across seven states and one Union Territory on Sunday. Total voter turnout recorded till 6 pm was 60.21%.

All parliamentary constituencies in Himachal Pradesh and Punjab, along with the Union Territory of Chandigarh, voted in the final phase of the polls.

In Bihar, Jharkhand, Madhya Pradesh, Uttar Pradesh and West Bengal, voting took place in a few Lok Sabha constituencies. The Varanasi Lok Sabha seat, from where Prime Minister Narendra Modi is seeking to be re-elected, is one of the key seats that voted in Phase 7.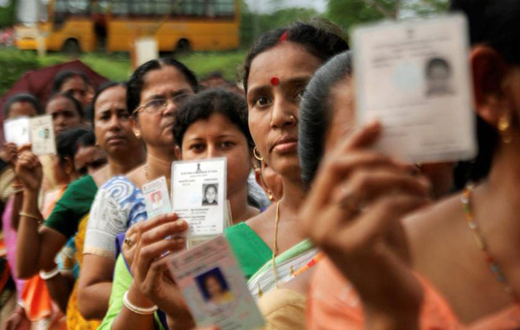 All votes polled in the 2019 Lok Sabha Election will be counted on 23 May.

West Bengal: 73% turnout reported amid sporadic violence, rigging

A BJP candidate was attacked while the vehicles of another saffron party nominee and a party leader were vandalised allegedly by Trinamool Congress workers as West Bengal recorded 63.66 per cent polling till 3 p.m. on Sunday amid allegations of sporadic violence, rigging and EVM breakdowns.

70.77% voting recorded in Jharkhand: Jharkhand on Sunday recorded 70.43 per cent polling for the three parliamentary constituencies where voting took place in the final phase of the Lok Sabha elections, an election official said.

According to the Election Commission data, voter turnout was the highest in Rajmahal with 71.69 per cent followed by Dumka and Godda with 71.10 and 68.81 per cent respectively. In 2014, Rajmahal had recorded 70.37 per cent, Dumka 71.80 per cent and Godda 66.30 per cent voting.

Voting began at 7 a.m. in 6,258 polling booths and ended at 4 p.m.

Over 49.92% turnout in Bihar:A turnout of 49,92% was recorded till 6 pm in polling to eight seats in Bihar in the seventh and final phase of Lok Sabha polls in the state amid stray incidents of violence, EVM glitches and poll boycotts.

A mob held protests at a polling booth in a village in Paliganj area of the Pataliputra constituency and vandalised an EVM after some youths were stopped from casting their vote, police said. A clash between rival groups occurred at Vayapur in the same constituency. In the Nalanda seat, a mob ransacked a polling booth and held an official hostage for an hour as they boycotted the polls. Clashes were also reported from Sasaram, Karakat, Arrah and Jehanabad. At some booths, voting was delayed to EVM glitches.

About 66.35% polling in Himachal: Nearly 66.35% of over 53 lakh voters in Himachal Pradesh turned out till 6 p.m. on Sunday to elect Members of Parliament for the state's four Lok Sabha seats in the last phase of the general election, officials said. Voting was largely peaceful in the state.

58.92% voting in Punjab: Voting was largely peaceful for all 13 Lok Sabha seats in Punjab.

Madhya Pradesh records 69.36% voting till 6 pm: Madhya Pradesh on Sunday recorded 69.36% voting till 6 p.m. for eight parliamentary constituencies in the last phase of general elections, while two poll officer died while on duty due to heart attack.

Voters boycotted polling at one of the booths in Agar Malwa and five booths in Mandsaur, Chief Electoral Officer V.L. Kantarao said. "We are trying to convince people to exercise their franchise."

Uttar Pradesh recorded 54.52% voter turnout by 6 pm while Union territory Chandigarh witnessed 63.57% polling.