Kerala Woman police officer murder: Accused had poured petrol on victim
Mangalore Today News Network
Kerala, Jun 18, 2019 : As the police probe the murder of a woman police officer by another policeman spurned by her, it has come to light that she was stalked, harassed and targeted earlier too by him, as to The Week reports.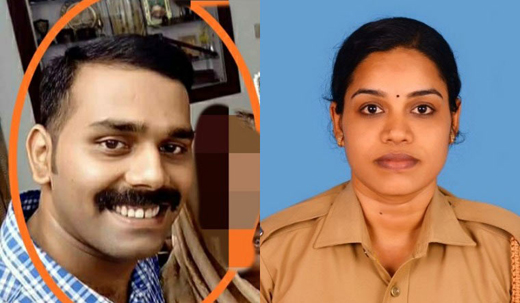 The mother of woman civil police officer Soumya Pushpakaran, who was set ablaze by cop N.A. Ajaz at Vallikunnam in Kerala's Alappuzha district, has said the accused had attempted to kill Soumya earlier too. "He thrashed her once at home and poured petrol over her. He also hit her with a shoe," Soumya's mother Indira told Manorama.

Soumya had frequently told her mother that Ajaz was harassing her, and she was anticipating an attack, Indira said. The mother said when Soumya blocked his phone number, he called her from other numbers twice. Ajaz allegedly used to demand that she keep her phone switched on even during duty time. Soumya then reportedly changed her number. After this, Ajaz came home and thrashed her. He asked her why she had switched off the phone, the mother recounted.

Soumya had even told her elder son that if she was killed, then he should tell the police that 'Malappuram Ajaz' was the culprit, sources said. (Malappuram Ajaz is how Soumya referred to the accused).

Soumya was hacked and burnt to death in broad daylight on June 15. Ajaz, a civil police officer attached to the Aluva traffic wing, also suffered burns. He was taken into custody and admitted to the hospital.

Ajaz confessed on Monday that he intended to commit suicide after killing the victim. Citing spurned love as the reason for murder, N.A. Ajaz said that Soumya had rejected his advances several times. He had doused both Soumya and himself with petrol before setting her ablaze.

Ajaz also denied the involvement of any third parties in the act, in a statement given to the police.

Thirty-three-year-old Ajaz got acquainted with Soumya during her training period in the force. The police said even though Ajaz knew that 34-year-old Soumya was married with three kids, he wanted to marry her. Once Soumya came to know about Ajaz's wish, she kept a distance from him.

"Ajaz had at one point given Rs 1.5 lakh to Soumya. I, along with Soumya, went to Ernakulam to return the money. Then, Ajaz did not take back the money. Soumya had then said he didn't take the money due to his guilt. Ajaz had dropped me at Changankulangara and Soumya at Ochira," Indira said.

"The next day, he called up Soumya and chided her for not waking him up for his 7am duty," she recounted.

Though Soumya transferred the money to his bank account, he put it back in her account, her mother said. "I then called up Ajaz and asked him not to harass my daughter who is married and has three kids. I even advised him to get married to some other woman," she said.

"Once Soumya and her husband Sajeev got into an argument over the money Ajaz had given her. Then Soumya's relatives intervened and tried to resolve the issue. I don't know when did Soumya get acquainted with Ajaz. Though Soumya pleaded with him to leave her alone, he killed her," an emotional Indira said.

Soumya did not give written complaint

Soumya had hinted at all these issues to Ernakulam sub-inspector Rajan Babu over the phone two months ago, Indira said. "He had instructed her to give a written complaint. However, she did not do so," the mother said. The police had asked Soumya not to stay alone at her house.

Rajan Babu was the Vallikunnam police station sub-inspector then. He was transferred to Ernakulam North ahead of the Lok Sabha polls.

Ajaz still in critical condition

The condition of Ajaz, who is undergoing treatment at the medical college hospital, continues to be critical. As he is not in a condition to talk, his statements have not been recorded. Ajaz had planned to commit suicide after killing Soumya, sources said.

How did Ajaz get the car?

Ajaz had reached Vallikunnam in a car owned by Ernakulam native Ratheesh. Ajaz used this car to knock down Soumya's scooter before hacking her. However, Ratheesh said he did not know Ajaz personally and had given the car to a relative's friend.

"My car is used by a relative, Shyam. In the first week of June, it was given to Aluva native Jasar. I don't know how the car came in the possession of Ajaz," Ratheesh said.

Shyam said he had given the car to a friend. Ajaz apparently got hold of the car after telling this friend that he had to take a relative to Thiruvananthapuram for the PSC test.

The police will record the statements of Ratheesh and Shyam. Soumya's body was handed over to her relatives after the autopsy at Alappuzha Medical College Hospital. The funeral will be held after her husband returns from Libya.