Kerala: 96-Year-old topper gets Laptop from Govt after telling CM of latest hobby
Manglore Today News Network
Thiruvananthapuram, Nov 08, 2018 : The 96-year-old great-grandmother from Kerala has her wish of operating a computer fulfilled. Karthyani Amma was presented with a laptop by state's education minister Professor C Raveendranath on Diwali. She is the oldest in the state to take a literacy test in which she scored 98 out of 100.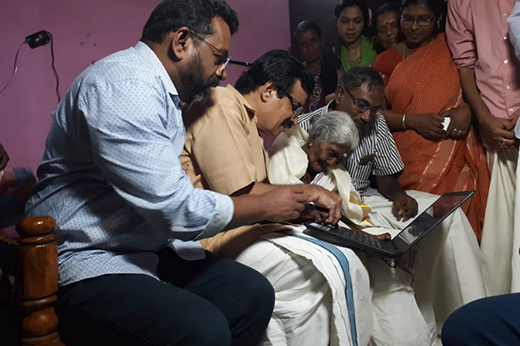 As per News18 reports, when she was felicitated by chief minister Pinarayi Vijayan, she had reportedly expressed her desire to learn to use a computer.
As she was helped to type her name on the laptop, an elated Amma was all smiles.

Karthyani Amma, who belongs to Alapuzza district, never had a formal education. But seeing children going to school always inspired her. She had expressed her desire to pursue further studies and learn to use a computer, which could help her secure a job.

Following her husband's death 57 years ago, Karthyani took to odd jobs like cleaning a temple to sustain her family.

She had earlier topped class 4 equivalent exam. Karthyani now wants to qualify the Class 10 equivalent exam as part of the Kerala State Literacy Mission, which aims at attaining 100 per cent literacy. Her 60-year-old daughter Ammini, too, joined the classes under the literacy programme.

This literacy programme evaluates reading, writing and basic mathematical skills of the candidates. This year approximately 42,933 people cleared the test.

With 90% literacy in 1991, Kerala was declared fully literate state, as per the UNESCO norms. Despite that, around 18 lakh people were illiterate, according to a 2011 Census. To bring everyone in the ambit of literacy, the Kerala government launched the "Aksharalaksham" programme on January 26 this year. It aims at imparting education to marginalized communities.