Kashmir: Angry farmers won't sell apples to NAFED, addled govt takes mandi keys
mangaloretoday network
SRINAGAR,Sep 21, 2019: Jammu & Kashmir — The Narendra Modi government has tasked the National Agricultural Cooperative Marketing Federation of India Ltd (NAFED) with the task of procuring this season's apple crop in a belated attempt to contain the fallout of the Indian government's continued siege of the valley.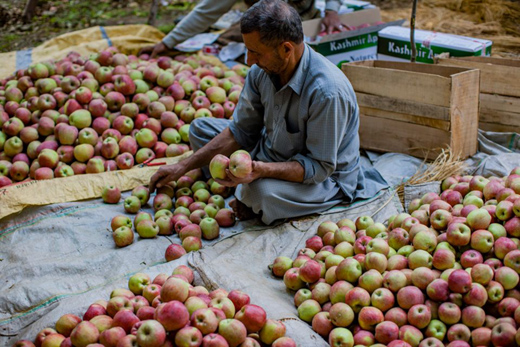 But officials concede that the scheme has few takers at present.

"Of course, this is not normal," a government official said. "We are reaching out, but farmers are not responding."

The largest fruit and vegetable wholesale market, or mandi, in Srinagar stands deserted, with Kashmiri growers saying they would not bring their fruit to the mandi to protest the government's de facto suspension of civil rights in the region.

The administration has responded by putting pressure on traders to open the market, to the extent of confiscating the keys to the mandi.

The administration had taken the keys, Bashir Ahmad Basheer, who is the chairman of the Kashmir Valley Fruit Growers And Traders Union, said, "To show to outsiders, look, the market has opened," he said.

When this reporter visited the market in Srinagar this week, the only people at the registration centre for NAFED's apple procurement scheme were the two officials manning the desk. The large grounds where farmers unload their produce is empty. The row of shops lining the mandi are shuttered. Only police vans and a few government officials were spotted on site.

Government officials said 57 farmers had registered for the NAFED scheme since it was announced on September 11, 2019. The official, speaking on the condition of anonymity, pointed out that registration does not mean participation.

The Indian government has been at pains to paint a patina of normalcy in Kashmir a month and a half after cutting off all communication lines and flooding the valley with hundreds of thousands of heavily armed troopers. Thousands of politicians, lawyers, rights activists and everyday civilians — including children — have been detained by the police, prompting outrage.

A successful procurement of this year's apple produce, in this context, is being seen as a benchmark for the return to normal economic activity in a region that accounts for three quarters of apple production in India, and a validation of the government's claim that a majority of Kashmiris tacitly support the decision to nullify the state's constitutionally-guaranteed autonomy.

Last week, NAFED's Managing Director Sanjeev Kumar Chaddha told India Today that they expected to procure apples worth Rs 5000 crore.

Yet, Kashmir's apple growers have chosen to send their produce to other parts of India, rather than allow the government to spin a narrative of normalcy Basheer, the chairman of the fruit growers union, said.