Karnataka Crisis: SC Adjourns Independent MLAs' plea till 24 July
Mangalore Today News Network
Bengaluru, Jul 23, 2019 : ""Session started at 10:01 today. There appears to be a delay. No matter what time the session starts, we are sure to finish by 6 pm. If there is any delay, it will be our loss of time to bear."" - UT Khader, Cong MLA.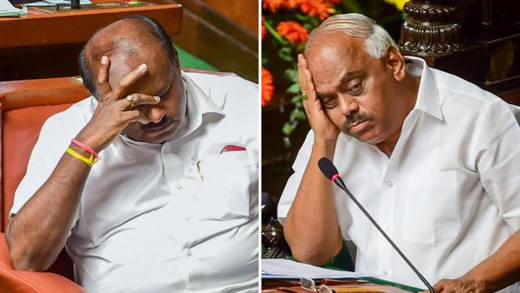 Rebel MLAs Seek Four Weeks Time to Appear Before Speaker

The rebel MLAs on Tuesday, 23 July, sought four weeks time to appear before Karnataka Speaker KR Ramesh. They were summoned before him at 11 am today.


""It is all related to court proceedings. It will all be dealt with in the court."" - KR Ramesh Kumar, Karnataka Speaker

Session Adjourned for the Day, Trust Vote Likely on 6PM Tuesday

After a plea from Congress leader Siddaramaiah that the ruling alliance will go for trust vote as soon as the debate is over on Tuesday, 23 July, the Assembly session was adjourned by Speaker Ramesh Kumar till Tuesday 10 am, despite disagreement from the BJP camp.

BJPs Madhuswamy, on Siddaramaiah's plea, said that the debate will have to finish on Monday itself, not agreeing with the Speaker's initial pitch of having a trust vote by 4 pm, Tuesday 23 July.
""We are not ready for this fixing."" - Madhuswamy, BJP Leader

Siddaramiah then asked for the debate to be finished by 4 pm on Tuesday, 23 July so that the trust vote can take place by 6 pm, the request that was agreed by the speaker, who then adjourned the house, despite the BJP not agreeing to this ruling.