Kalidas Kolambkar takes oath as pro-tem Speaker of Maharashtra
Mangalore Today News Network
Mumbai, Nov 26, 2019: The Supreme Court on Tuesday (November 26) ordered the Maharashtra government to conduct a floor test to prove its majority in the House by 5 pm on Wednesday after considering the competing claims of the opposition parties. Hearing the parties, the apex court bench comprising Justices NV Ramana, Sanjeev Khanna, and Ashok Bhushan opined that since oath-taking of the MLAs had not taken place a floor test should be conducted as soon as possible on November 27, Zee reported.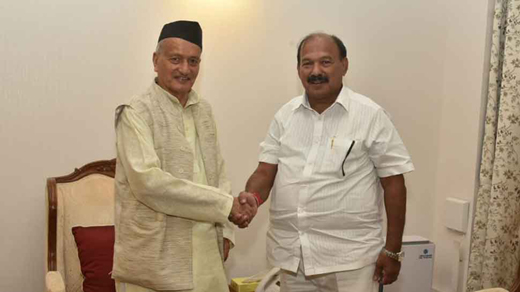 The court said a pro-tem speaker would be appointed and the floor test would not be conducted by secret ballot and the proceedings would be telecast live.

Terming the Supreme Court`s order for floor test in Maharashtra, as a slap on the BJP-Ajit Pawar alliance, the Congress spokesperson Randeep Singh Surjewala accused the two of "hijacking the mandate". Surjewala tweeted, "Supreme Court`s decision is a slap on an illegitimate BJP-Ajit Pawar government, who had hijacked the `mandate`. Those who sought to avoid the `floor test` to rule by stealth and deception stand exposed."

Earlier, NCP replaced the nephew of Sharad Pawar as a legislature party leader with Jayant Patil. NCP chief Sharad Pawar has said that the decision of his nephew Ajit Pawar to align with BJP was against the party line and any MLA who aligns with him is likely to face anti-defection law.

On Monday, NCP legislative party leader Jayant Patil along with Shiv Sena leader Eknath Shinde, Congress leader Prithviraj Chavan and others visited Raj Bhawan and gave a letter showing the strength of 162 MLAs to the officials at Raj Bhavan. The BJP won 105 seats in the 288-member assembly followed by Shiv Sena 56, NCP 54 and Congress 44.