Justin Trudeau wins second term in hard-fought Canada election
mangaloretoday/ ANI
Toronto, Canada, Oct 22: Justin Trudeau was on course to win a second term as Canada's prime minister in an election seen as a referendum on the Liberal leader and his four-year-old government after a series of scandals.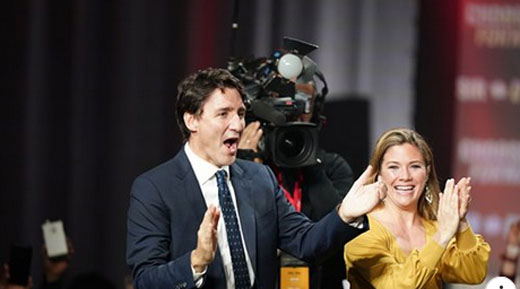 After polls closed, Canadian broadcasters CTV and CBC declared a Liberal minority government, which means Trudeau will have to work with other parties in order to govern.

"You did it, my friends. Congratulations," Trudeau, 47, told supporters in Montreal early on Tuesday. "From coast to coast to coast, tonight Canadians rejected division and negativity. They rejected cuts and austerity, and they voted in favour of a progressive agenda and strong action on climate change."

As of 11:30pm EST on Monday (03:30 GMT Tuesday), the Liberals had won 158 seats, significantly fewer than the 184 seats the party secured in 2015.

In 2015, Trudeau was the "change" candidate, backed by Canadians who were tired of nearly a decade of Conservative rule. But in the last year, he has been dogged by scandals that chipped away at his credibility, including revelations he once wore blackface.

Canada's parliament has 338 seats, and the party that wins the majority of those seats - 170 or more - automatically forms the government and can easily pass legislation. If no party wins a majority, the parties must team up.

It is unclear which party the Liberals would join forces with to govern, with negotiations set to take place over the coming days.