Income-Tax raids Chief Minister HD Kumaraswamy's Accountant
Mangalore Today News Network
Bengaluru, Aug 23, 2018 : Senior police officer had alerted CM's assistant that the taxman was watching themIn a very hush-hush operation, the income-tax department conducted raids on the home and office of Chartered Accountant HB Sunil in Kumara Park (West). Sunil maintains the accounts of Chief Minister HD Kumaraswamy and some of his family members.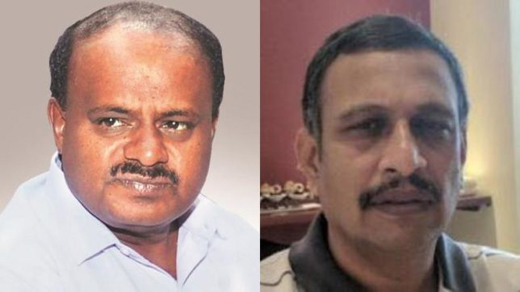 This is the second time in three months that Sunil's office and home is being searched by the income-tax department; he was last raided by in May, during the Assembly elections.

Although the raids started on Tuesday, a Bangalore Mirror photojournalist who went to take pictures of the building saw a few cars (Innovas with yellow registration plates) parked, although the building gate was locked. The lights at Sunil's office were switched on and a lot of activity could be noticed. Sources in the I-T department confirmed the raids to Bangalore Mirror and said that Sunil had not been allowed to leave the premises till late in the evening on Wednesday.

Sunil has been the chartered accountant and a trusted aide of Kumaraswamy and other members of his family. All personal investments and business investments of the CM, those of his wife Anitha Kumaraswamy (she runs the Kasturi channel; and her declared net worth in 2013 was around Rs 36 crore) and son Nikhil are handled by Sunil, sources said. He is even said to have handled the JD(S) party fund mobilised by Kumaraswamy during the Assembly polls.

It is not clear whether the raids were politically motivated like those on the Congress leaders in the run-up to the Assembly or purely a suspected financial fraud.

A senior police officer who did not wish to be named said that Sunil and one of the Chief Minister's assistants were under the I-T radar for some time.
In fact, the officer is said to have alerted the CM's assistant to 'possible raids' by the income-tax department. Sources said that the CM's assistant is yet to be quizzed.


Coalition the target?

Rumour mills in Bengaluru are abuzz that the BJP is a bit unnerved by the Mahagathabandhan (grand alliance) for which leaders from all over the country landed up during Kumaraswamy's swearing-in; several poll surveys had indicated that the BJP might not come to power on its own (like in 2014) and was keen to break the Congress-JD(S) alliance.

The proposed Mahagathabandhan, which is still taking shape, is meant to stop Modi from returning as prime minister in 2019.

Sources said that if looked at in that context, the raids on Kumaraswamy's Man Friday of sorts could be one of the ways to put pressure on breaking the alliance.

In fact, several Congress leaders, including Minister DK Shivakumar, close confidantes and relatives of KJ George, former ministers M Krishnappa, MB Patil and HC Mahadevappa had come under the I-T scanner prior to and during the Assembly polls.

Shivakumar even accused the BJP of using the IT and other Central agencies to tame Opposition leaders while George had stopped using his own mobile phones fearing tapping.


CM's temple run continues

And on a completely different note, Kumaraswamy and members of his family will visit Ajmer Sharif Dargah, a Sufi shrine which has the grave of `Garib Nawaz' Moinuddin Chishti, in Rajasthan on Thursday. He will also visit Brahma Temple in Pushkar.

After becoming CM-designate and assuming office, Kumaraswamy has been on a temple run visiting at least 50 places of worship. He is set to complete 100 days in office on August 30.

courtesy:Banglore mirror