Husband of UP Lawmaker's daughter assaulted at court
Mangalore Today News Network
Prayagraj, Jul 15, 2019 : The husband of Sakshi Misra, an Uttar Pradesh BJP lawmaker's daughter who had alleged threats from her family, was attacked today at the Allahabad High Court, where the couple had gone to seek protection. Ajitesh Kumar, 29, was repeatedly slapped by unknown people when the couple, guarded by policemen, was about to enter the courtroom. The couple has alleged a threat to their lives from Sakshi Misra's father, NDTV.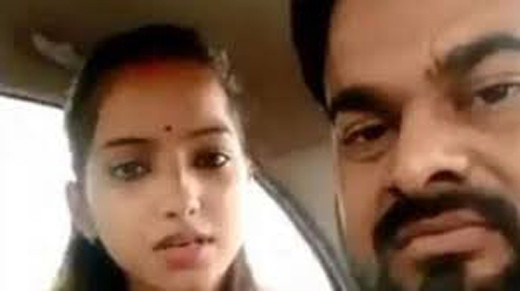 "As they were about to enter the courtroom Ajitesh was beaten while in police protection. Only Ajitesh was beaten up. It is not known who these people are, but it proves there is indeed a threat to their life for which they are seeking protection," said lawyer SN Naseem, who witnessed the attack.

In the hearing that followed the assault, the High Court expressed anger over the incident and directed the authorities to ensure the couple had all necessary protection to travel to wherever they were going.

Sakshi Misra, 23, is the daughter of Rajesh Misra, a legislator from Bareilly in Uttar Pradesh. She married Ajitesh Kumar at a temple on July 4. She then posted a video on social media asking for protection from the court because she felt her husband and she were in danger from her father for marrying outside her caste.

In the video, which went viral, Sakshi Misra referred to her father and brother and wrote: "Papa and Vicky, I mean Honourable MLA Pappu Bhartaul ji and Vicky Bhartaul ji, please live and let us live in peace...Papa, you have sent your goons after me...like Rajiv Rana... I am tired... We are tired of running around and our life is in danger. Vicky and Papa, stop troubling Abhi and his relatives. You live in peace, do politics. I want to be happy and free." she says in the video.

"Through this video, I want to say that if in future anything happens to me, Abhi or his family, my father, Vicky Bhartaul and Rajiv Rana will be responsible for it... Those who are helping my father, stop helping him because our lives are in danger. Please Papa, change your mindset. Abhi and his family are good people, they are not animals."

The BJP lawmaker has denied his daughter's charge and said his objection to the marriage was not because of caste but because of their age difference and Ajitesh's modest income.

Meanwhile, there was yet more drama outside the Allahabad High Court after a second couple was kidnapped.

The second couple had also come to the court to ask for protection

They were taken away, reportedly at gunpoint, in a car registered in Etah district of the state, and had the word "chairman" written on it.

The woman, who was identified as Ruby, a resident of Amroha district, was going to marry Shamim Ahmed from Moradabad. The couple were found shortly after their abduction in neighbouring Fatehpur district.