High alert in Punjab after heavy rain forecast, IMD issues warning for Himachal
Mangalore Today News Network
Amritsar, Aug 17, 2019 : Punjab Chief Minister Captain Amarinder Singh on Friday night ordered a high alert across the state, after the India Meteorological Department (IMD) issued a forecast of heavy rainfall in the state in the next two days, Zee reported.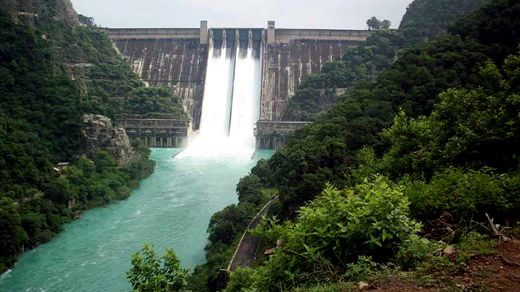 All the Deputy Commissioners (DC) have been directed to stay vigilant in view of the IMD's prediction, and ensure the safety and security of the people in case of any untoward situation arising from the heavy rainfall.

Punjab chief minister also instructed field officers of Revenue, Drainage, Health, Food, and Animal Husbandry Departments to stay on alert and to be ready with an action plan for relief and rehabilitation works as and when needed.

On Friday, The Bhakra Beas Management Board (BBMB) opened all the four flood gates of the Bhakra Dam to flush out excess water, which increased water level in rivers in the state, news agency ANI quoted officials as saying.

The step was taken after the level of the water reservoir reached 1,674 feet, just below its maximum capacity of 1682 feet. According to reports, the authorities had asked people living near Sutlej river and low-lying areas of Jalandhar district to remain on alert after 55,000 cusecs water was released from Bhakra dam.

As torrential downpour is predicted in the next 48 hours, the officers have been asked by the state CM to not leave their headquarters.

50,000 cusecs of water was released from Bhakra dam as excess water had to be released from the reservoir following the unrelenting rains in the hilly regions of Uttarakhand and Himachal Pradesh occurring throughout Friday.

IMD, in its Saturday weather bulletin said that the monsoon trough was passing through Rajasthan, Haryana, Uttar Pradesh, Madhya Pradesh, Jharkhand, West Bengal, and Bangladesh and heavy to very heavy rain and thunderstorms were likely over Punjab, Himachal Pradesh, Jammu and Kashmir, Uttarakhand, Haryana, Delhi, Rajasthan and Andhra Pradesh.

The IMD has predicted rainfall with heightened intensity on Saturday in parts of Himachal Pradesh. An orange warning, which detonates the likelihood of conditions that could impact lives significantly, has been issued for the entire state.

A red warning alert has been issued for several districts ig Himachal Pradesh including Una, Bilaspur, Hamirpur, Chamba, Kangra and Mandi districts for August 17 and for Kangra, Shimla, Solan and Mandi districts on August 18 (Sunday). A red warning alert implies the likelihood of heavy to very heavy rainfall which could impact lives severely.

The weather department issues colour-coded warnings to alert the people ahead of severe or hazardous weather, which could potentially cause "damage, widespread disruption or danger to life".