Governor may invite BJP to form govt, BSY likely to be sworn in as CM on May 17
www.mangaloretoday.com
Bengaluru, May 15, 2018 (ET): If Karnataka Governor Vajubhai Vala invites the single-largest party, the Bharatiya Janata Party (BJP), to form government, a large number of successful candidates may have to spend days confined to resorts. It's short of a few seats and the only way it can prove majority on the floor is if JD-S splits. The JD-S will closely guard its winners to prevent any such possibility.

Meanwhile, sources told that the Governor may first invite BJP's chief ministerial candidate BS Yeddyurappa to form government in Karnataka and the oath taking ceremony is likely to take place on May 17.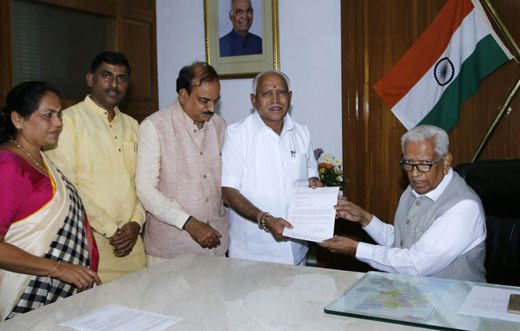 At least seven to eight members of the Congress are miffed with the party over alliance with JDS, say sources. They are against HD Kumaraswamy being the Chief Minister.

This will be nothing new for Karnataka. During the last year Rajya Sabha elections, the Congress brought its Gujarat MLAs to a resort near Bengaluru to prevent them from giving in to pressure from other the BJP.

Karnataka has become a hub for "resort politics" of all hues with hardly any indirect election in the state and of late, in the country, not seeking the herding of elected representatives in one location till the polling is done, according to an ET report from last year.

The BJP took up this method in 2008, when they formed government under B S Yeddyurappa, says the report. They had won 110 seats against the Congress' 80 and were three short of a majority. Under mining baron and MLC G Janardhan Reddy's leadership, first the independents, then several Congress and JD(S) MLAs were hosted at resorts.

In the current scenario when the BJP is the single-largest party but without enough numbers to form government on it own while the Congress and JD-S have come together, if the governor invites the BJP to form government and then prove majority, there could be a lot of struggle to poach as well as retain MLAs. And resorts will be in demand.