Fake news: Muslim leader disrobe a Dalit woman
Mangalore Today News Network
A disturbing photograph of a man disrobing a woman publicly, while people around them laugh, apparently enjoying the woman's ordeal, has gone viral on social media platforms.

The picture is reminiscent of a passage in Mahabharata in which Dushasana, younger brother of Duryodhana, pulls the saree of Draupadi, the wife of Pandavas, in the middle of the ceremony.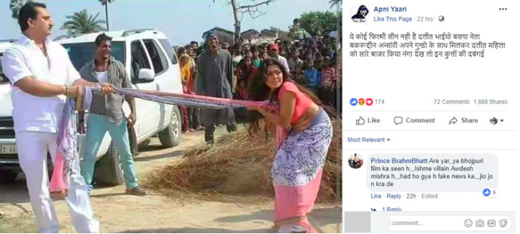 The viral posts claim that the man in the picture is a Muslim leader of the Bahujan Samaj Party and the woman is a Dalit. The man in the picture is purported to be Bakruddin Ansari, a BSP leader, and it has been shared by thousands of netizens.

However, the truth is other. This picture is actually a scene from a Bhojpuri movie 'Aurat Khilona Nahi', released in 2014 and directed by Aslam Sheikh. The film stars Manoj Tiwari, the Bhartiya Janata Party chief of Delhi, and Monalisa.

The scene appears at 2 hours and 11 minutes into the movie. The villain of the movie and his henchmen are denuding the woman and the people are mute spectators.

Obviously, the viral posts are a mischievous ploy to show a Muslim leader in bad light vis-à-vis Dalits. While no one has claimed ownership of the post, neither is it known where it originated from, the fake news is being spread to drive a wedge between Muslims and Dalits who form the core vote bank of the BSP.