Delhi Police detain several protesting JNU students after clashes during march to Parliament
Mangalore Today News Network
New Delhi, Nov 18, 2019: In the wake of the protest march to Parliament called by the students of Jawaharlal Nehru University (JNU) on Monday heavy police were deployed outside the university campus. The Jawaharlal Nehru University Students Union (JNUSU) will hold the march to Parliament on the first day of winter session over their demand for a complete rollback of the hike in hostel fees and several other issues, Zee reported.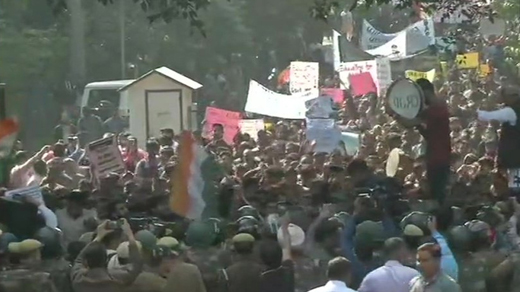 The JNU Students Union (JNUSU) have been protesting because according to them the JNU administration has passed a draft hostel manual on October 3, 2019, without any consultation with the student community and started their protest from October 29 by boycotting classes and examinations. Apart from JNU, several other university students are likely to join the march. "JNUSU invites students from all Universities to come and join "Save Public funded education March"," read a statement. The JNU students called this march a step to 'Save Public Education'.

Security beefed up outside Parliament House in the wake of protest carried out by JNU students.

Several JNU students detained by Delhi Police after clashes.

Amid protests, senior Ghulam Nabi Azad supported the JNU students. He said, "What is the motive of the government behind the increase of 300 percent fee? HRD ministry committee has no meaning."

Delhi Police stops Jawaharlal Nehru University students at Ber Sarai road, not allowed to march ahead towards Parliament.