Coronavirus COVID-19 cases cross 3,000 in India, 75 deaths
Mangalore Today News Network
New Delhi, Apr 04, 2020: Seventy-five people have died in India after being infected with COVID-19, the Health Ministry said today, as the country recorded the highest number of cases (601) on Saturday. The fresh cases take the total to 3,072. India has seen an unprecedented increase in COVID-19 count over the last week after more than 1,000 people who had attended a controversial religious gathering held by Islamic group Tablighi Jamaat in south Delhi in March tested positive. Seventeen states have so far reported cases linked to the controversial gathering, the Union Health Ministry said this evening. Worldwide, COVID-19 count has crossed 1 million-mark, over 50,000 have died. The United States registered nearly 1,500 deaths from COVID-19 between Thursday and Friday, the highest any country has recorded in 24 hours as to NDTV.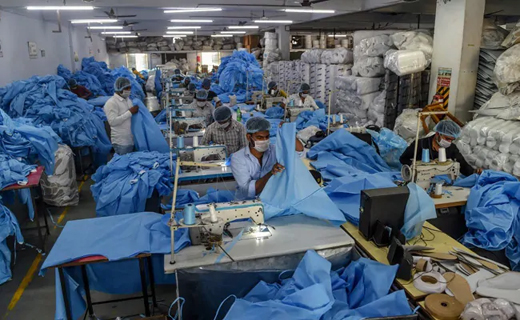 An unprecedented surge has been reported in the number of COVID-19 cases over the last one week in states across the country. From 900 cases last Saturday, including 19 deaths, COVID-19 count is close to touching the 3,000-mark in a week's time. Of India's 2,902 cases, 1,043 cases are linked to the controversial Delhi mosque event, which has become India's biggest hotspot for the deadly virus, the Union Health Ministry said today.

With 490 cases, including 26 deaths, Maharashtra has registered most coronavirus patients so far. Tamil Nadu, the state with second highest number of cases in the country, witnessed a spike for the third consecutive day on Friday as it reported nearly 100 new patients; most of them had visited Nizamuddin, one of Delhi hotspots.

The Uttar Pradesh government has filed charges against some members of the Tablighi Jamaat under the strict National Security Act. The charges were filed after allegations of misconduct against and assault on nurses at a Ghaziabad hospital. While ordering the charges to be filed, Chief Minister Yogi Adityanath described them as "enemies of humanity".

A week after the government formed 11 empowered groups in fight against COVID-19, Prime Minister Narendra Modi today chaired a meeting to review preparedness. He directed officials to ensure sufficient availability of all essential medical equipment such as personal protective equipment, masks, gloves and ventilators, his office said in a tweet.

The centre has identified 14 hotspots across the country, where a huge number of cases have been detected. Delhi's Dilshad Garden and Nizamuddin; Noida in Uttar Pradesh; Rajasthan's Bhilwara; Kasargod, Pathanamthitta and Kannur in Kerala; Mumbai, Yavatmal and Pune in Maharashtra; Indore and Jabalpur in Madhya Pradesh; Ahmedabad in Gujarat and Ladakh have been listed as the COVID-19 hotspots.

In Delhi, 108 health officials working with Sir Ganga Ram Hospital have been quarantined after they came in contact with two patients who tested positive for COVID-19.

Three COVID-19 cases in Asia's largest slum - Mumbai's Dharavi- have emerged as a major concern amid India's fight against COVID-19. More than a million people live in Dharavi, a five square kilometre slum that has a maze of dirty lanes and cramped huts packed with large families. Over 70 per cent of the residents use community toilet.

Those who are not suffering from any medical condition have also been advised by the Union Health Ministry to wear masks. "Certain countries have claimed benefits of homemade face cover for the general public. Such homemade face cover is a good method for maintaining personal hygiene," reads an advisory. This comes after US President Donald Trump on Friday recommended that Americans cover their faces with masks when outdoors, a policy U-turn following growing scientific research suggesting their widespread use can stem the spread of the coronavirus.

Prime Minster Narendra Modi addressed the nation on COVID-19 pandemic for the third time on Friday and made a fresh appeal. He has asked people to turn off lights at 9 pm for nine minutes this Sunday to fight the darkness of COVID-19 pandemic. "No one is alone during the lockdown, the collective superpower of 130 crore Indians is with every citizen," he said in a video address. The appeal was met with a scathing response by many opposition leaders who lashed out at the idea.

The World Bank has approved $1.9 billion in aid for 25 countries. The largest chunk of this - $1 billion - will come to India and should be used for "better screening, contact tracing and laboratory diagnostics, (buying) personal protective equipment and setting up new isolation wards", the global financial institution has said.