Can Ram Mandir be built on Muslim graves: Letter to Temple Trust
Mangalore Today News Network
Delhi, Feb 18, 2020: A group of eight Muslim residents of Ayodhya have written a letter to the Trust set up for the construction of the Ram Mandir in Ayodhya, raising the issue of the Muslim graveyards that used to exist adjacent to the Babri Masjid, and asking whether the proposed temple "can have foundation on the graves of Muslims", Yahoo reported.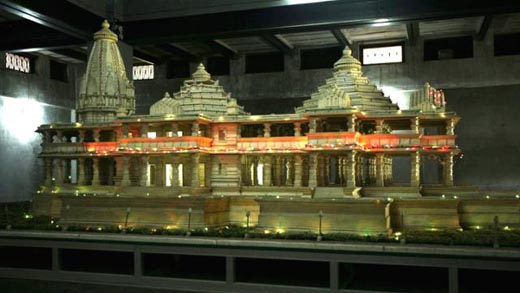 The letter, sent by Supreme Court advocate MR Shamshad on their behalf on 15 February, is addressed to all the trustees for the Ram Janmbhoomi Teerth Kshetra – the Trust set up by the government to comply with the Supreme Court's verdict in the Ayodhya title dispute – including senior advocate K Parasaran.

In it, the Muslim residents have pointed out that it was the stand of Shri Ram Lalla Virajman (the deity represented through his idols), in its own suit, =-, which had not been used in recent decades, but had seen the burial of 75 Muslims after clashes in the area in 1855.

The Hindu party had sought to argue that on this basis, the mosque was not valid as it was surrounded by graveyards and therefore went against the tenets of Islam.

The Muslim residents who have written the letter note that the Allahabad High Court had also, in its judgment splitting the disputed land into three back in 2010, had held that the Hindu parties had proved that the disputed structure had been surrounded by graveyards on three sides.

The Supreme Court in its landmark verdict on 9 November 2019 had ruled in favour of Ram Lalla Virajman, holding that the title over the land belonged to the deity. As a result, it had directed the Centre to set up a Trust to deal with the land, including the construction of a temple if so decided.

The letter argues that the 67 acres of land which have now been given to the Trust to administer includes land on which Muslims have been buried, and that the Central Government had not considered this issue when handing over the land to the Trust. As a result, they argue that:

"It has violated 'dharma'. Now you all Trustees are persons of eminence in contemporary India and have the best knowledge and experience in the field of Hindu/Sanatan religion and practice. In view of religious scriptures of Sanatan Dharma, you need to consider whether the Temple of Lord Ram Janmsthan can have foundation on the graves of Muslims? This is a decision that the management of the Trust has to take."

On this basis, the Muslim residents have asked the trustees not to use the land of 4-5 acres around what used to be the Babri Masjid, which according to them, was where the graves used to be.