CBI finds link between Dabholkar, Gauri Lankesh murders
www.mangaloretoday.com
Mangaluru, August 26, 2018: In a major breakthrough, the Central Bureau of Investigation (CBI) has established connections between the murders of rationalist Dr Narendra Dabholkar and journalist-activist Gauri Lankesh.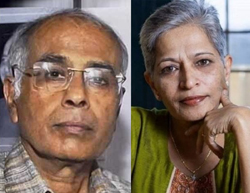 The CBI informed the development in the Shivajinagar magistrate's court in Pune, when one of the prime suspects, Sachin Andhure, was produced on Sunday for extension of his custody. Andhure's remand had been extended till 30 August.

Dr Dabholkar (67) rationalist and anti-superstition activist, who was the founder of Maharashtra Andhashraddha Nirmoolan Samiti (MANS), was shot dead on 20 June 2013, by two unidentified gunmen near Omkareshwar temple in Pune.

Gauri Lankesh (55), journalist-turned-activist was shot dead outside her residence in Bengaluru on 5 September 2017. She worked as an editor in Lankesh Patrike, a Kannada weekly started by her father P. Lankesh and ran her own weekly called Gauri Lankesh Patrike.

In both these cases, the role of right-wing activists, including those associated with Sanatan Sanstha and other organisations have come to light. The CBI, however, has not named any organisation/s in the remand applications so far.

In the remand application, the CBI has said that during the interrogation of Andhure, he revealed that one of the arrested accused in the Gauri Lankesh murder case, had handed over one 7.65-mm country-made pistol and three bullets to him.

Andhure, later passed it to his brother-in-law Subham Surale in Aurangabad on 11 August 2018. He, in turn, passed it on to his friend Rohit Rege in Aurangabad.

It may be recalled, Andhure's name was revealed by Sharad Kalaskar, a resident of Nalasopara near Mumbai, who has been arrested by the Maharashtra ATS for planning blasts in Mumbai, Pune, Solapur and Satara.

It was Andhure and Kalaskar who went on a motorcycle and shot Dr Dabholkar. The CBI would seek the custody of Kalaskar, once his remand with Maharashtra-ATS ends. Besides, it would also seek the remand of one of the accused arrested by the SIT of Karnataka police.

CBI officials said that efforts are underway to trace the motorcycle. "Some of the accused in the Gauri Lankesh case are connected with Sachin Andhure and the Dr Narendra Dabholkar murder case," the CBI said in the remand note seeking the extension of the remand.