Bill Gates predicted we would have an epidemic soon
Mangalore Today News Network / Yahoo
March 18, 2020: While the entire world has been thrown into chaos by the outbreak of the novel coronavirus that has claimed thousands of lives till date, it's worth noticing that a number of experts had been issuing warnings about this very problem for years.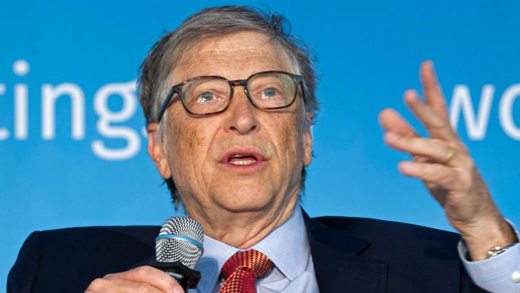 One such warning came from none other than Bill Gates.

Microsoft co-founder and for many years the world's richest person, Bill Gates predicted an epidemic such as coronavirus as far back as April 2015.

Speaking at a TEDTalks event, Gates said,"If anything kills over 10 million people in the next few decades, it's most likely to be a highly infectious virus rather than a war — not missiles, but microbes."- Bill Gates, Microsoft co-founder

Unfortunately for us, Bill Gates was right on the money (as one might expect).

In the video posted on the YouTube page of TedTalks, titled The next outbreak? We're not ready, he warned in clear terms, "We have invested very little in a system to stop an epidemic."

Bill Gates, who last week left Microsoft's board to "dedicate more time to philanthropic priorities including global health and development, education, and increasing engagement in tackling climate change", had pointed out in 2015 that we've invested a lot in warfare but too little in epidemic preparedness.

"The failure to prepare could allow the next epidemic to be dramatically more devastating than Ebola," Gates had predicted.

Talking about a solution, he said,

""We need strong health systems in poor countries. We need a medical reserve corps and then we need to pair those people with the military, taking advantage of its ability to move fast, do logistics, and secure areas."" - Bill Gates, Microsoft co-founder

"So far the score is germs: 1, people: 0," Gates added.

Gates founded Microsoft in 1975 and was CEO of the company until 2000. He was director of the board at Microsoft until 2014. After that, he began dedicating his time to philanthropy and his foundation, the Bill & Melinda Gates Foundation.