BJP got donation from company being probed for terror link
mangaloretoday/ yahoo
New Delhi, Nov 22: BJP received a large sum as donation from RKW Developers — a company being probed by the Enforcement Directorate (ED) for business transactions with Iqbal Mirchi — reports Rohini Singh for The Wire. Iqbal Mirchi alias Iqbal Memon was an accused in the 1993 Mumbai bomb blasts and is known to be a close associate of Dawood Ibrahim.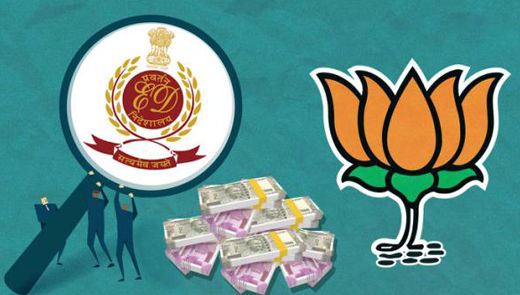 WHAT DO WE KNOW?

According to The Wire report, RKW Developers Ltd gave Rs 10 crore to the BJP in 2014-15. This was revealed in BJP's filings to the Election Commission. RKW Developers Ltd is associated with Dewan Housing Finance Limited. It's also been reported that RKW is the largest company donating individually to the ruling party.

WHAT'S THE PROBLEM WITH RKW?

A former director of RKW, Ranjeet Bindra, has been arrested by the ED for brokering deals between Iqbal Mirchi and other firms.

OKAY, ARE THERE OTHER COMPANIES?

Well, yes. The Wire reports that a company called Sunblink Real Estate has also made a donation of Rs 2 crore to the BJP. The problem? The company has been accused by the ED of buying Mirchi's properties. Similarly, a company called Skill Realtors Private Limited is also linked to Sunblink through a director, Mehul Anil Bavishi. This company also made a donation of Rs 2 crore to the BJP, according to the Election Commission. A company called Darshan Developers Private Limited donated Rs 7.5 crore to the BJP in 2016-17. This company is also linked to RKW through a director in the company called Placid Jacob Noronha.

THE BIG, POLITICAL PICTURE

Before the Maharashtra elections, the ED had questioned NCP leader Praful Patel in the Iqbal Mirchi case. While Patel had denied any wrongdoing, the case had been brought up in a rally by PM Narendra Modi where he has said, "Instead of nabbing those responsible for the terror attacks, those in power then indulged in Mirchi business." Union Home Minister Amit Shah had said that doing business with Mirchi was "nothing short of treason." Reacting to this story, Congress leader Randeep Singh Surjwala commented "is this not treason?" on Twitter.
With Parliament in session, it would be interesting to see how PM Modi and Opposition react to this story.