Assam police officers take care of babies while their mothers write TET exam
Mangalore Today News Network
Assam, Nov 12, 2019: Women are usually great at juggling work and home. Be it taking care of a baby while working a job to taking up home responsibilities despite a busy schedule, women usually have to manage it all. But sometimes, even multitasking women need a helping hand.

Such an incident occurred in Assam on Sunday when some women police officers helped take care of babies while their mothers wrote the Teachers' Eligibility Test (TET), Yahoo reported.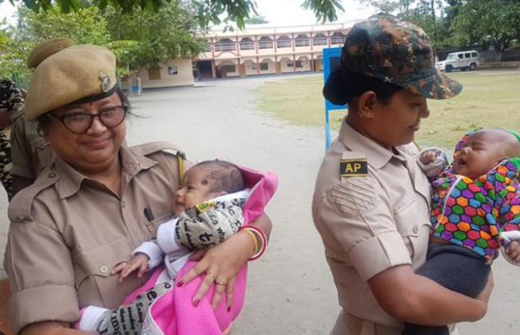 The TET examination, which was conducted across Assam on November 10, is the minimum basic requirement for teachers to to teach classes I to VIII in India. The examination is divided into two sets, one for teachers applying to teach classes I to V while the second is for those who want to tech VI to VIII.

In a post shared by Assam Police on Twitter, two cops in Assam's Darrang district can be seen taking care of two 'lil' ones' while their mothers wrote the exam.

Sharing the image, the police department wrote, "Mother is a verb. It's something you do, not just who you are!".

Some said the gesture was "sweet" while others saluted the cops' dedication.

As per recent guidelines released by the Inspector of Schools of the district, those sitting for the TET exam were not allowed to carry pencil boxes, sheets of paper, cell phones or other electronic gadgets in to the examination hall.