Arun Jaitley cremated with full state honours, nation mourns
www.mangaloretoday.com
New Delhi, August 25, 2019: The last rites of former finance minister and senior BJP leader Arun Jaitley, who died at the age of 66 after a prolonged illness on Saturday at New Delhi's All India Institute of Medical Sciences (AIIMS), is being performed at the Nigam Bodh Ghat crematoriu in the preence of galaxy of leaders from the political spectrum. His funeral procession was earlier brought from the BJP headquarters to the Nigam Bodh Ghat, where his last rites are being performed.

Jaitley's mortal remains were taken from AIIMS to his residence in Kailash Colony on Saturday where a gamut of political leaders cutting across party lines gathered to pay their tributes to the BJP stalwart. From here, Jaitley's mortal remains were shifted to BJP headquarters around 11 AM on Sunday for party workers and the public to pay their last respects.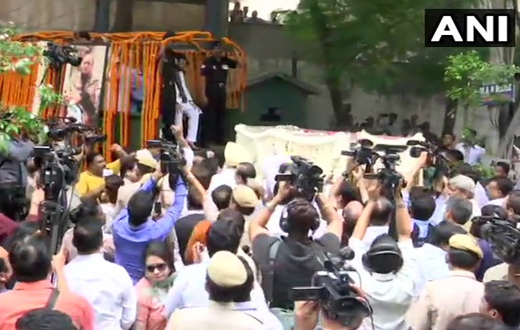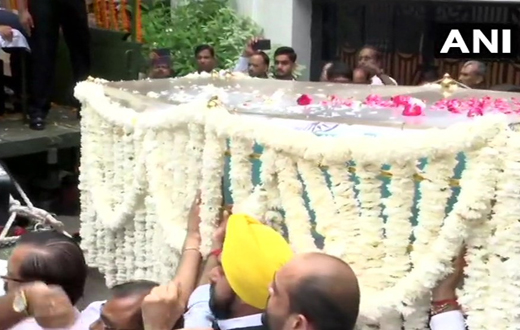 Following the demise of Jaitley, a master strategist and key troubleshooter for Prime Minister Narendra Modi-led NDA government, tributes and condolences started pouring within minutes from across the nation.

Prime Minister Narendra Modi, who is currently on a foreign tour, in a series of tweets called Jaitley a political stalwart, towering intelligent and a sensible person with a good sense of humour.

Jaitley did not contest the 2019 Lok Sabha election, because of his ill-health. In May this year, Jaitley was admitted to AIIMS, Delhi for treatment. He had undergone a renal transplant on May 14 last year at AIIMS with Railways Minister Piyush Goyal filling in for him in the Finance Ministry at that time.

Prime Minister Narendra Modi, who was in Bahrain on Saturday, turned emotional at an event as he remembered his "friend", Arun Jaitley. "I can't imagine that I am so far here while my friend has gone away. Some days ago, we lost our former External Affairs Minister Behen Sushma Ji. Today I have lost my friend Arun," he said.

Earlier, he spoke to Mr Jaitley's family to give his condolences. Mr Jaitley's family told the Prime Minister not to cut short his important engagements abroad, news agency ANI reported. PM Modi will be in France today to attend the G7 summit.

Mr Jaitley, a lawyer by profession, had been an important part in PM Modi's cabinet in his first term. He held the finance and defence portfolios, and often acted as the chief troubleshooter of the government. During his tenure as finance minister, he led the enactment of a bankruptcy code and the Goods and Services Tax or GST.

Mr Jaitley's health issues became worse after he had a kidney transplant in May last year. He did not contest the 2019 Lok Sabha election presumably because of his ill-health.