Advani is the right BJP leader to be future President of India - Gadkari
Mangalore Today News Network
New Delhi, June 23, 2014: Union Road Transport Minister Nitin Gadkari, former BJP President, has said BJP patriarch LK Advani, who yet to be part of new NDA regime, deserves to be President—a constitutional post that will fall vacant after three years—as it will be fitting to his stature.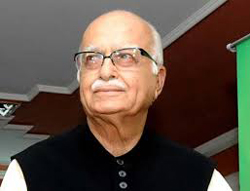 Advani was sidelined after a decision in the BJP that leaders above 75 years of age would not be inducted into Prime Minister Narendra Modi's government. The decision had the RSS' backing. Advani, however, has expressed his desire to hold a constitutional post that would keep him out of the government headed by Modi, with whom he is not on the best of terms.

It was widely speculated that Advani might get the only vacant constitutional post of Lok Sabha Speaker, but Sumitra Mahajan has recently been elected to it. Gadkari's statement is the first from a BJP leader that perhaps espouses a slot for Advani to which he too would not be averse. The only hitch is that Advani will have to wait for President Pranab Mukherjee to complete his five-year term in July 2017.

Gadkari told a TV channel ( Rajat Sharma's show 'Aap ki Adalat' on 'India TV',) Advaniji was deputy prime minister during the Atal Bihari Vajpayee regime. "Advaniji was deputy prime minister, and it would not have been proper had he been made Speaker. Advaniji deserves to become the nations President," the news quoted Gadkari as saying in a press release issued to the media.

With Advani feeling left out after being part of the core team that built the BJP, Gadkari said, "All of us respect Advaniji, and we want him to get a post equal with his stature." For the first time, Gadkari put on record that Advani and Joshi did not find a place in the cabinet due to Modi's conscious decision not to induct leaders above the age of 75. He quelled speculation that Joshi wanted to become Planning Commission deputy chairperson, but did not throw any light on his fate either.