A strong India will benefit its neighbours, Modi tells Bhutan
Mangalore Today News Network
Bhutan, June 17, 2014: Prime Minister Narendra Modi on Monday concluded an "extremely successful" first foreign visit since assuming office with a message to Bhutan and other neighbouring countries that a strong and prosperous India was in their interest.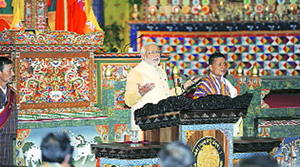 India and Bhutan have decided to scale up their ties that cover security interests and cooperation in a wide range of fields. Bhutan promised not to allow its territory to be used against India, an assurance that comes against the backdrop of militants from the Northeast taking shelter there.
The two countries agreed to continue with their close coordination and cooperation on issues relating to their national interests and not allow each other's territory to be used for interests inimical to the other, a joint statement issued at the end of the visit, said. Modi later tweeted: "This Bhutan trip will remain etchedin my memory; It was a very satisfying & productive visit."

Earlier, addressing the joint session of the Bhutanese National Assembly, Modi said a strong Bhutan will benefit India just as a strong and prosperous India will be beneficial for the countries of the region, especially the members of SAARC. "India's prosperity is important as then it can help small countries and perform its duty of a good neighbour. But if India is weak and struggling with its own problems, then how can it help others?" he said.

External Affairs Minister Sushma Swaraj, who accompanied Modi on the visit, described the visit as "extremely successful", and that the Indian side was "extremely satisfied" with it. Modi assured the Bhutanese side that the change of government in Delhi would not affect ties, and that all past commitments will be fulfilled.

In a series of tweets posted after returning home, Modi said, "…When Bhutan moves ahead, India too feels like taking steps ahead to support Bhutan. "India plans to create an e-library network in Bhutan & we would double scholarships being given to students of Bhutan.
"In a short span of time, Bhutan has developed immense faith in democratic institutions. This is wonderful for Bhutan's development journey."