2 dead in police firing in Bengaluru riot following derogatory post
mangaloretoday.com/yahoo
Bengaluru, Aug 11, 2020: Two persons were killed after Bengaluru police opened fire at a violent mob in East Bengaluru's KG Halli, on Tuesday 11 August. Police resorted to firing after the mob went on a rampage, attacking a police station and an MLA's house.

According to police, a large mob gathered in front of the KG Halli police station demanding the arrest of the MLA's relative Naveen. As police were talking to the complainants, around 8.30 pm, another mob of around 200 people gathered at MLA's house. They began pelting stones and setting vehicles on fire, police said. The MLA was not at home during the attack.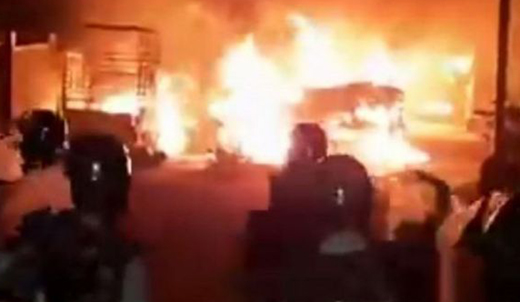 Soon after the mob gathered outside KG Halli police station began pelting stones at the police station and even damaged DCP (East) Bhimashankar Guled's official car.

Police reinforcement lead by city police commissioner Kamal Pant soon arrived on location. As the situation was going out control, police opened fire, in which two persons were killed and one was injured.

Home Minister Basavaraj Bommai released a video with an appeal for peace. "Whatever the issue is, we will investigate it but vandalism is not the solution. We have deployed additional forces. I have given cops a free hand to handle the situation. However powerful the guilty are, we will take action. But people mustn't take the law into their hands."

Meanwhile, the MLA has sent out a video message appealing for calm. "I request our Muslim friends, for the mistake of some miscreants, let's not fight. Whatever the fight, we're are brothers. Whoever has made a mistake, let's teach them a lesson through legal means. We will also stand with you. Whoever has made the mistake, we will take steps to teach them a lesson. I request our Muslim kin to please remain peaceful. I will also stand with you," he said.