'Chant Modi-Modi to enter home': Posters in Muslim locality
mangaloretoday/ yahoo
Haryana, Oct 16: The general perception is that, while Prime Minister Narendra Modi is the most celebrated and popular leader in India, the Muslim community is somewhat averse to him. But in poll-bound Haryana Muslims have devised an ingenious way to show their support to the PM.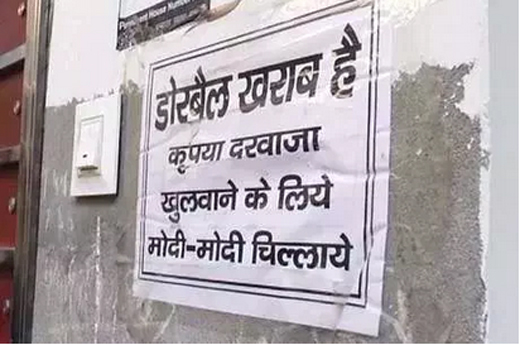 In the town of Ambala, people in a Muslim colony have stuck posters in Hindi outside their doors that read, 'the doorbell is out of order, to enter please shout Modi-Modi'.

A News18 report quotes people from the area as saying, "These days, the candidates and their representatives of various political parties ring the doorbells of our houses to seek votes. Therefore the posters have been put up so that only the representatives of the Bhartiya Janata Party (BJP) and the PM ring the bell and chant Modi-Modi."

The women of the neighbourhood seem especially pleased with the PM for ushering in the landmark Triple Talaq Bill. Residents of the locality also seem to be grateful for the launch of public schemes such as Ayushman Bharat and Ujjwala, from whom they say they have benefited immensely.

Haryana goes to polls on October 21 and all the surveys predict a landslide victory for the ruling BJP.