'We are in trouble': On flight, Kashmiri woman breaks down before Rahul Gandhi
mangaloretoday.com/ yahoo
Kashmir, Aug 26: A day after Rahul Gandhi and a delegation of Opposition leaders were sent back from Srinagar airport, Priyanka Gandhi Vadra Sunday shared a video of a Kashmiri woman breaking down before the Congress leader on a flight to New Delhi.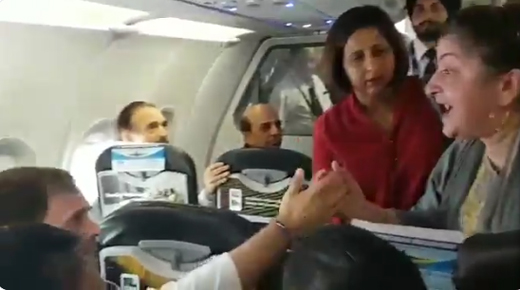 "For those who accuse the opposition of politicising this issue: there is NOTHING more political and anti-national than the shutting down of all democratic rights that is taking place in Kashmir. It is the duty of every one of us to raise our voices against it, we will not stop doing so," she wrote on Twitter.

In the video, the woman is seen recounting how the lockdown in the Valley has affected the lives of those in Jammu and Kashmir. "Our children have not been able to move out of their houses. My brother is a heart patient. He could not see the doctor for 10 days. We are in trouble," she said sobbing. In the video, Rahul can be seen trying to console the woman.