Mumbai: Sr. Mary Vas Receives Cross of Honor
Mangalore Today News Network
Mumbai, June 24, 2014: Catholic news services inform that on Saturday June 21 2014, a Mass of thanksgiving was celebrated by His Excellency Archbishop Salvatore Pennacchio Nuncio of the Vatican to India and concelebrated by Rev. Msgr. Romanus Mbena, Rev. Msgr. Marco Sprizzi, Rev. Fr. Dr. Charles Vas, (Brother of Sr. Mary Vas and Director of Sangeet Abhinay Academy, Mumbai) and Rev. Fr. Royal Anthony (Education Director Catholic Diocese of Bareilly) at the Chapel of the Nunciature New Delhi.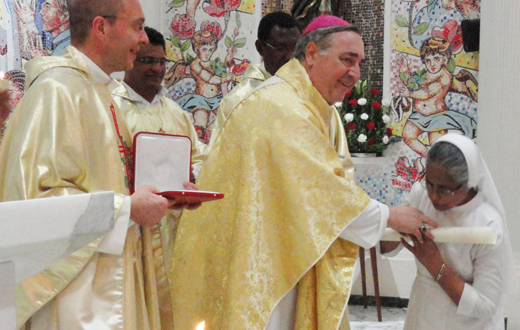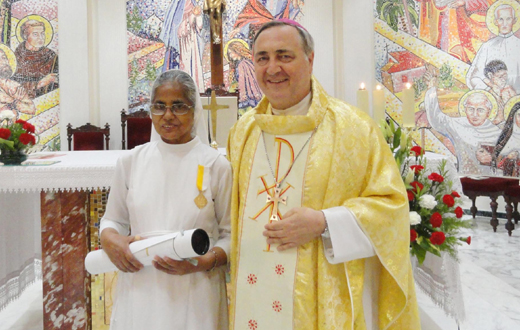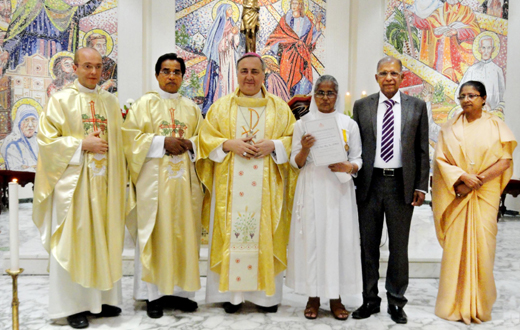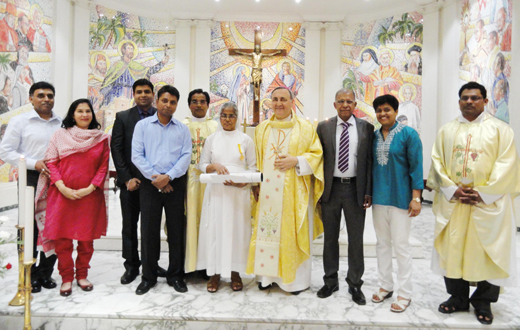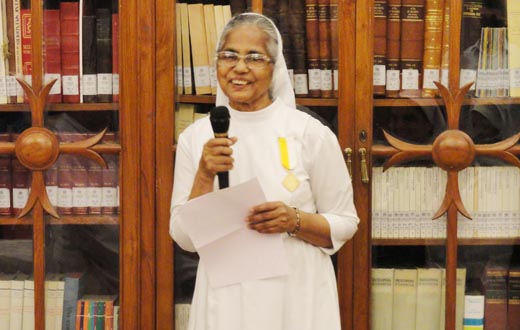 The occasion marked the Holy See awarding Sr. Mary the Papal Honor, Pro Ecclesia et Pontifice, "In recognition of her effective and distinguished service to the Nunciature, New Delhi, India". By the act of decree and medal, "The Holy See has recognized her extraordinary service to the Church and her generosity of mind and heart in sharing her many gifts and talents to the nunciature for 23 long years".

Sr. Mary Vas, (maiden name Cecilia), was born at Omzoor, near Mangalore in December 1935. She is the daughter of Late Mr. Jacob Vas and Late Mrs. Seraphine Pereira Vas. She comes from a family of 5 children. She is a sister of Rev. Fr. Charles Vas SVD, Mumbai.Her youngest brother is noted Lawyer of the Bombay High Court viz. Mr. Pius Vas, Mumbai. After completing her High School studies in Mangalore, Sr. Mary joined CFMFS in Delhi in 1955. She went to Italy in 1981 and studied Music for six years and stayed there for another three years. On returning to India she joined the Nunciature in February 1991 and has given her service for a long period of 23 years. Sister Mary remarked that she was quite surprised when she received the news of the award. She thanked the Nuncio for the same. She owed her gratitude to the sisters of the congregation who have always walked with her and especially her parents and family members for all that they mean to her.

The other distinguished guests present for the function included Mr. Pius Vas (Advocate, Bombay High Court), his son Mr. Jason Vas (Solicitor), the niece and nephew of Sr. Mary viz. Ms. Emmy Vas and Mr. Sunil D'Souza respectively. Present for the occasion were other Sisters of the Community of Sr. Mary, her Provincial Sr. Ivy and Superior Sr. Lincy.

Mr. Pius Vas, the youngest brother of Sr. Mary spoke during the felicitation programme and expressed his gratitude to the Holy See and the Nuncio and heartfelt wishes to Sr. Mary. He recollected the humble beginnings of the family and beautifully expressed as to how the parish from where the family began viz. Holy Family Church has become a reality in the life of the Vas Family, all because of the good works and pious life led by their parents.