Kannadigaru holds Twitter campaign for stranded Kannnadigas in Dubai
Media Release
Abu Dhabi, Feb 15, 2021: Hundreds of migrant workers travel abroad seeking employment to support the livelihood of their families. It is a common scene that they wait in a long queue at the currency remittance Exchanges on their salary day to send money to their loved ones who are entirely dependent on this money to survive back home. They sweat and toil even at 50 degrees temperature, bearing all the pain of being away from their homeland so that their families do not go hungry.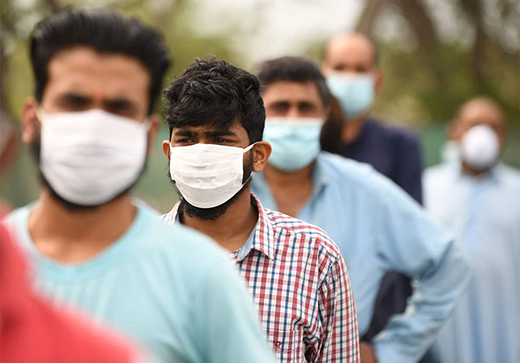 Several countries across the Middle East are taking unprecedented, urgent and drastic measures to control the pandemic as the situation arises. Due to the second wave of Covid-19 two gulf countries, Saudi Arabia and Kuwait announced entry restrictions from several countries until further notice including India.

Due to the above restrictions from Saudi Arabia and Kuwait wherein one is not allowed to enter the country directly, jobseekers and employed visa holders and Kannadigas travel to UAE and complete their quarantine for 16 days in UAE and proceed to Saudi Arabia and Kuwait after the covid test.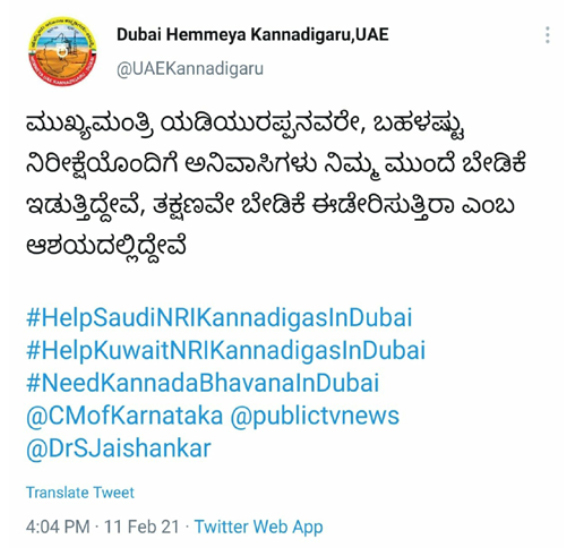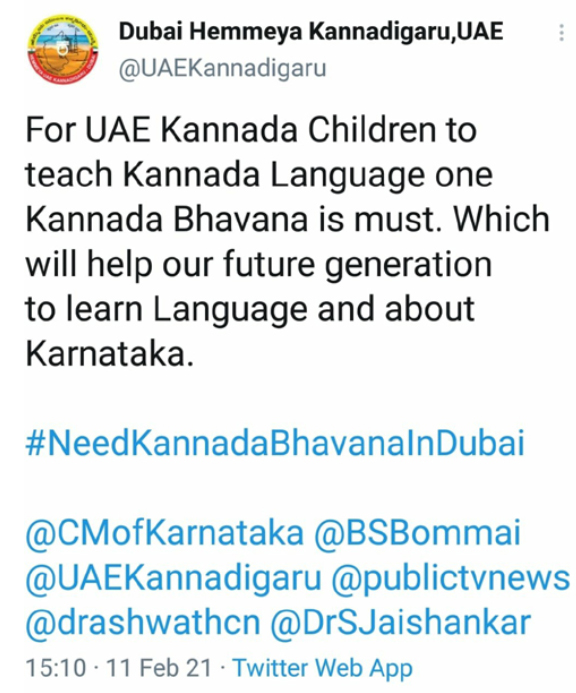 With new regulations since Saudi Arabia and Kuwait have imposed restrictions of entry either by air or road from UAE also indefinitely, they are stranded in Dubai and other emirates (states) of UAE. This has created a panic situation for them with nowhere to go.

They have spent on the agent's commission, visa, air ticket, quarantine accommodation expenses for 16 days to reach the country of destination but this new situation has upset all their plans. The Indian consulate in Dubai has informed them to return to India.

Hemmeya UAE Kannadigaru Dubai who is promoting Kannada and culture, assisting expat Kannadigas in jobs, medical, social information and those who were at the forefront of medical assistance during the Covid-19 lockdown volunteer programme of the UAE government responded to the situation and conducted a Twitter campaign on February 11 drawing the attention of the Government of Karnataka including the chief minister, home minister, Government of India- external affairs minister and the concerned. The tweet appeal sought emergency assistance to Kannada migrant workers stuck in Dubai to return to Karnataka by arranging free air tickets for them.

Several wonderful programmes are organised by Kannadigas in Dubai, but unfortunately, the cost of rent and the facilities to suit the needs are really challenging.

They also lent their voice demanding 'Kannada Bhavana' (Kannada building) that would lay the foundation and open the golden gates for a Kannada library, promotion of Kannada language, culture and tradition for current and future generations. The centre would also serve as a hub for Kannadigas in distress. An exclusive letter was also emailed to chief minister Yediyurappa.

The campaign was a huge success with Kannadigas across UAE tweeting in one voice and participating for a greater cause to preserve their language and identity and support to resolve this humanitarian crisis.

Team Hemmeya Kannadigaru Social Media conveners Sentil, Rafi, Firoz and Akram took responsibility for a successful Twitter campaign. Team president Mamata and Dubai Kannada Sahitya wing convener, Vishnumurthy thanked all those who tweeted.