KNRI UAE is all set to celebrate Karnataka Rajyotsava 2021
Media Release
Dubai, Nov 11, 2021: First time in the history of UAE, all Kannada based associations have come together under the leadership of Karnataka NRI forum UAE to celebrate 66th Karnataka Rajyotsava in Dubai on November 12, 2021.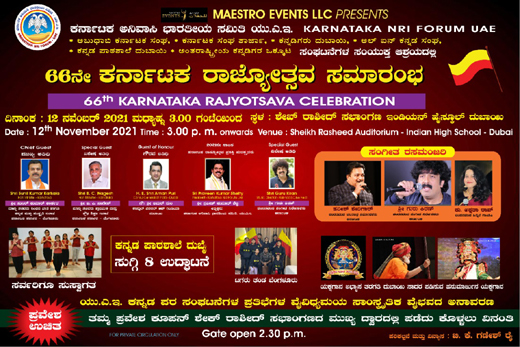 The UAE has always been active through its various cultural, social activities and programs organized by Karnataka based organizations however it was on halt due to the Covid pandemic. Now KNRI stood up with all Kannada based associations to celebrate the feast of Karnataka state in a unique way.

Addressing the media at Fortune Plaza hotel, president of KNRI UAE Praveen Shetty said, on November 12, 2021 at Sheikh Rashid Auditorium - Dubai is all set to celebrate Karnataka Rajyotsava in grandeur. Karnataka State Energy, Kannada and Culture Minister V Sunil Kumar, Primary and Secondary School minister B C Nagesh and Consul General of Indian Consulate in Dubai H E Dr Aman Puri along with music director of Kannada Film industry Guru Kiran will be the guest of honour for the programme.

The programme is organized in association with Kannada based associations of UAE.

Sarvotham Shetty - president of Karnataka Sangha Abudhabi, ME Muloor - president of Karnataka Sangha Sharjah, Vimal Kumar - president of Karnataka Sangha Al Ain, Shashidhar Nagarajappa - president of Kannada Paata Shaale Dubai, Hidayath Addoor - chief coordinator of International Kannadiga Federation and Uma Vidyadhar - Dubai Kannadigaru along with their all association members will join hands with KNRI UAE for success of Kannada Rajyotsava celebration.

The programme is lined up with fabulous dance, art and cultural presentations along with live orchestra, Yakshagana play and special performance of Tagaru team specially coming to Dubai to perform in Kannada Rajyotsava stage.

President Praveen Shetty requested all Kannadigas to join along with their friends and family to make the event a successful one.

Maestro Events has taken the responsibility of permission and other official approvals for the event.