KCF Global Service opens in Dubai
Media Release
Dubai, Feb 08, 2021: After eight amazing years of growth, the Karnataka Cultural Foundation on February 5, moved to a new venture and experiment in the premium business complex of Al Tawar Fast Business Centre.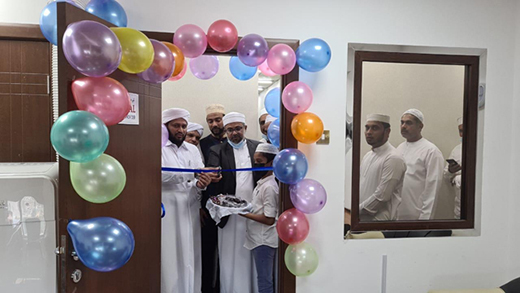 The Global Service Center will allow the team to grow leaps and bounds in the coming years with meeting rooms and a large space for services loaded with the latest technology for customer satisfaction.

The opening event began with an auspicious dua by Sayyid Zainul Abideen Al Ahdal Kannavam and was inaugurated by Zainul Ulema Abdul Hameed Musliyar - the president of Karnataka Jamiyatul Ulema. Best wishes and advice talk was addressed by Sulthanul Ulema A P Abubaker Musliyar- Indian grand mufti, Mahmoud Musliyar Edappal-GS, Karnataka Jamiyatul Ulema and Hussain Saadi-treasurer of Karnataka Jamiyatul Ulema.

The KCF UAE team radiated joy and success as president Abdul Jaleel Nizami and G S Moosa Haji compered the programme. To make the event even more special an Award of Appreciation was presented to the newly elected office bearers of Karnataka State Sunni Students Federation - the president, general secretary and treasurer.

The KCF International Council president, Dr Haji Sheikh Bava extended his best wishes and the financial controller, Hameedi Saadi extended advice.