Indians, Pakistanis in the UAE show how peace can be won
Mangalore Today News Network
UAE, Aug 15, 2019 : The UAE lifestyle for subcontinental togetherness serves as the perfect example for all to take home and share. It is not gratuitous to say that we live in splendid harmony in a third nation and work and play together without rancor or any of that rage that is expected of us when we return to our shores, Khaleej Times reported.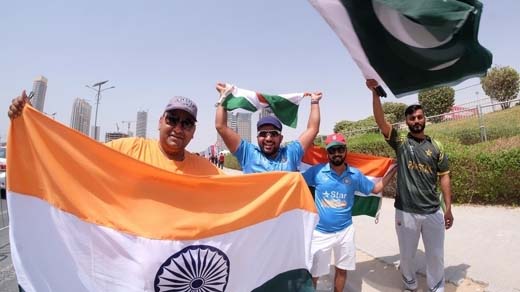 In fact, not only are we colleagues especially as Indians and Pakistanis, we are good friends, too. And we do not necessarily need to apologise for these ties. We attend functions in each other's homes, we break bread and our children grow up without the slightest touch of prejudice or bias. They school together, even have playdates and weekend 'spend the days' in each other's homes. Just like the two nations we are neighbours except we act like neighbours not adversaries.

Pakistanis and Indians not only work together across the professional spectrum but have bosses from the 'other side' and seldom if ever have I heard of anyone using that card unfairly. I don't pretend that it is idyllic and there are times when it is tough to explain a specific event but, by and large, it is a very healthy relationship.

Perhaps when there is a rare cricket match against one another we segue into our respective corners but even that is done with good humour and a little bit of chauvinism for sure.

With both nations sharing a history of a thousand years and much more, why have the last 70 been pockmarked with hostility? Have we been such easy targets for our respective political luminaries who have found it so convenient to strum our feelings to their advantage?

The uncomfortable answer is affirmative because the moment that influence is absent the adversarial element also evaporates.

Over these 35 years in the UAE, some of my good friends have been and are from across the border. Some have shuffled off the mortal coil and we have felt the loss. We have shared their grief and felt their pain and vice versa. We have equally shared their joys and they ours and there is no self-consciousness over attending each other's special occasions like birthdays and anniversaries and festivals.

In a personal aside, I have worked seven years with a gentleman whom I thought was from Pakistan until one day he said, 'I am off to Hyderabad' and I said, 'oh great, we have a Hyderabad, too. He looked at me oddly and said, 'that's where I am going.'

And I said, 'you'll love it, you got the visa easy.'

You do not want to hear the rest of the story but it does illustrate the pointlessness of endless rivalry.

When we are in each other's company, we do not customarily talk politics or engage in arguments that hurt. Maybe it is the emphasis that the UAE places on tolerance and goodwill and the pursuit of peace and prosperity that wears on us and changes our thought process.

The sincerity that is taken for granted when we are abroad probably melts a little like ice cream in the sun when we go back home on vacation. It is sad but valid that enough of us mute discussing our personal ties and day-to-day interactions with each other when back home because there is this 'you cannot really be friends' stance and we choose the safer route of shutting up rather than snarling ourselves in tedious explanation.

That is a common weakness, this backing off and one that the millennial in your face 'we say it like we see it' generation will address and thankfully end.

Then we come back to the adopted home carrying gifts for each other and sweets and mild guilt covered by enthusiastic and genuine affection at the reunification.

And you might think I am being naïve and fey but you can pretend for a while only not for years, year after year. In that lies the kernel of a new generation and a new deal forged in the crucible of peace and generosity.