Indian family seeks help as seaman goes missing from ship in Iran
Manglore Today News Network
UAE, Jul 22, 2019 : An Indian sailor at a Dubai-based shipping company is missing in Iranian waters since July 15, his devastated family members said as they appealed to authorities in India and the UAE, khaleej Times reported.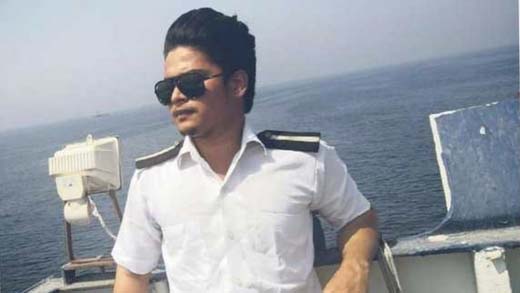 Aayush Chaudhary, according to family members, was a bright student and joined the company in May.

Anoop Chaudhary, his father, was inconsolable.

"He was only 21. He was my dear son. I am very upset. I don't know what to do. Please help me," Anoop told Khaleej Times over phone from Noida residence in Indian state of Uttar Pradesh.

"In his calls and audio messages Aayush told that his company wasn't a good place. He said some people were treating him very badly and that I wouldn't understand. Aayush said he will talk about this when he returned home. I am still waiting," he said.

Shaili Chaudhary, another relative, said the family has been cheated by local authorities in Nodia and New Delhi. "Aayush is first person from our family to join merchant navy. But we were duped by an authorised recruiter and agent as Aayush wasn't provided the promised ship when he reached Dubai on May 4. We are informed the shipping company is a blacklisted one and the vessel dates back to 1984. He asked us not to pay the remaining amount to the recruiter."

Shaili suspects foul play but said the family hasn't lost hope yet.

"Aayush joined as deck ratings trainee and made to work for 18-20 hours. He has mentioned that some of his seniors didn't treat him well and put pressure on him. On July 17 we were contacted by the company and informed that Aayush fell from the ship on July 16. Attempts were made to rescue him but he was swept away by a wave. He was a trained swimmer. How can he disappear by a wave," she asked. "The company has never contacted us again. How can we believe Aayush is no more when we haven't seen his body yet? It could be that he has been harassed. It could be human trafficking. He could have been sold or made to do forced labour," Shaili said and added the family has pinned hopes on the UAE and Indian government.

The case unfolded on Sunday as Aayush's sister Priyanka made a series of tweets.

"My brother is missing from Iran for the last 3-4 days. He is in merchant navy and is working for a Dubai-based company. We have been straightaway told by the company that he fell from the vessel and was lost sight of during and due to high tides. The name of the vessel is Pink Rose. We are not satisfied whether all due procedures and attempts were made by the concerned authorities or not, since their responses to the events have been quite late and illogical," Priyanka wrote in a series of tweets.

"We have all the relevant documents along with his passport and visa. He's the only one who fell in the ocean. Even the company gave their final report after investigating for 48 hours," Priyanka said.

She is planning to file a case against company. "The company is not at all concerned or answering any of our calls. We want our brother back," Priyanka said. "He knew how to swim. We are trying to reach him."

Meanwhile, Indian Consulate in Dubai has taken up the matter with the company and embassy in Iran.

"While we are trying to reach the company here in Dubai, we have also requested our Embassy in Iran to take up appropriately with Iranian authorities for conducting search operations," the consulate tweeted in response.