Indian expats in UAE celebrate 73rd Independence Day
Mangloretoday.com/ Gulf News
UAE, Aug 17, 2019 : From Indian missions and associations to major landmarks, Indian expats celebrated their country's 73rd Independence Day in style across various locations in the UAE on Thursday.

Traditional pomp and patriotism were on display when hundreds of Indians converged at their diplomatic missions in Abu Dhabi and Dubai to rejoice the day with fellow citizens and diplomats.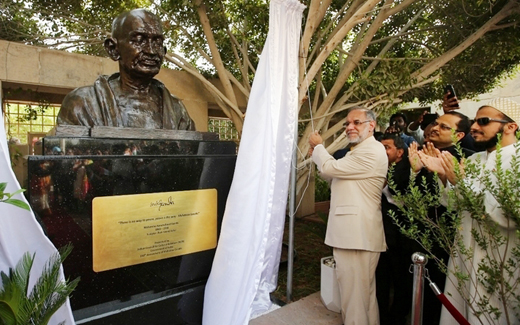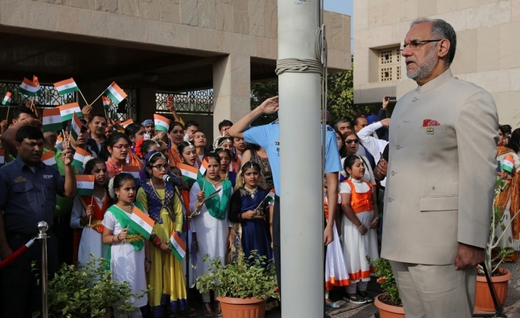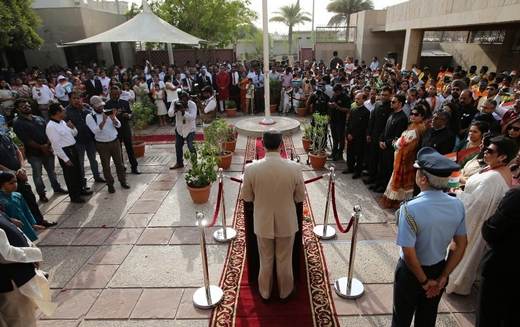 At the Indian Embassy in Abu Dhabi, the Indian Ambassdor to the UAE Navdeep Singh Suri hoisted the tricolour national flag. He also unveiled a new statue of Mahatma Gandhi at the mission, as this year marks the 150th birth anniversary of the Father of the Nation who was the leader of India's independence movement to free the country from British rule.

The celebration of Gandhian values also highlights India's strong commitment to peace, tolerance and non-violence, Suri said. He also sent out his wishes to Indian expats on the occasion of the Hindu festival Rakshabandhan, and stressed upon the mission's unwavering efforts in ensuring the welfare of the Indian community in the UAE.

In Dubai, Consul General of India Vipul also unfurled the tricolour.

The Consul General emphasised the growth of India-UAE bilateral relations in various sectors, the high-level state visits between the two countries and the government initiatives that have been beneficial to the expat community.

"Overall we are in a very special place. Here in the UAE, we are 3.3million plus Indians," he said.

"The endeavour of the consulate is to give the best services… I must say that we receive great cooperation from the UAE authorities in resolving all cases
The top diplomats read out excerpts of the Indian President's address to the nation on the eve of the Independence Day. Both the missions also held cultural programmers showcasing the unity in diversity of their country.

The Ambassador later celebrated Independence Day by ringing the market-opening bell at Nasdaq Dubai stock exchange.

The Abu Dhabi International Airport also hosted a celebration of the Indian Independence Day by receiving passengers from India with tricolour flags, balloons and flower garlands.
Patriotic spirit

Patriotic emotions ran high as people dressed in tricolours of the national flag chanted Jai Hind and Vande Mataram (slogans hailing the motherland) and also sang their national anthem in Dubai.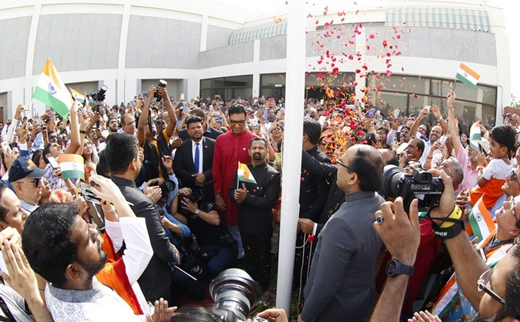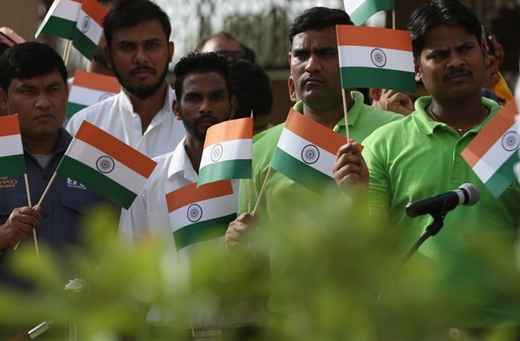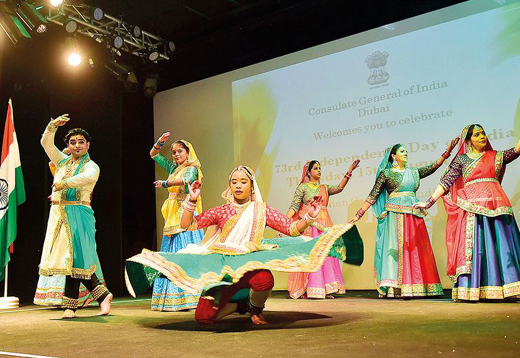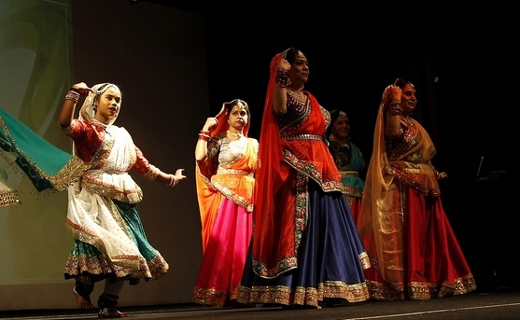 Dubai's Burj Khalifa was lit up with the colours of the Indian flag tonight.

The display of the Indian flag on Burj Khalifa took place at 8:44pm.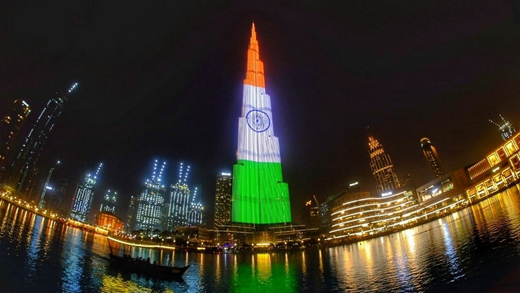 The showcasing of the flag marks India's Independence Day, celebrated on August 15. Earlier, the tricolour was not displayed following a technical snag.
"We have just learned from our friends in Emaar that on account of a major technical snag they won't be able to light up Burj Khalifa with the Indian tricolour tonight," Navdeep Singh Suri, the Indian ambassador to the UAE, said on Thursday.