Indian Embassy in Saudi organises 'Gandhi cycle rally for peace'
mangaloretoday network
Riyadh, June 7: The Embassy of India here, organized 'Gandhi Cycle Rally for Peace' in association with the Diplomatic Quarter Authority and Saudi Cycling Federation on Friday.
The Cycle Rally was part of the series of events organized globally by the Government of India to commemorate the 150th Birth Anniversary of Mahatma Gandhi, the apostle, who was a live embodiment of Truth, Non-Violence and Self-Obedience.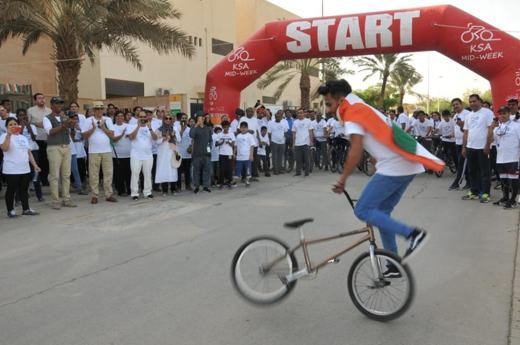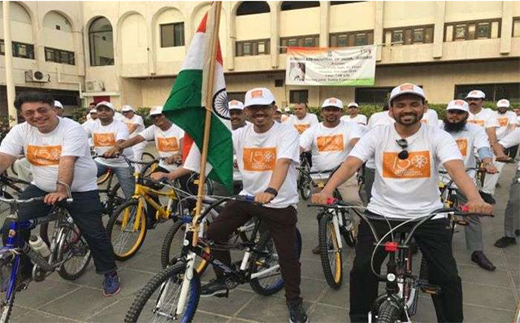 The Gandhian ideology also complements the Kingdom's 'Vision 2030', which aims to establish a 'Vibrant Society' based on 'Peace' and 'Harmony'.

Saudi Arabia, being home to a multi-cultural, multi-ethnic people is an example of the Gandhian ideology of Mutual Respect, Peaceful Co-existence and Sustainable Development'. The Saudi dignitaries, diplomats, Saudi nationals and members of Indian Diaspora participated in the rally.
Indian Ambassador Dr. Ausaf Sayeed flagged off the rally. Seven teams were deployed along the 6 km long route to assist the participants.

A Saudi cycle acrobatic team performed before the start of the rally.
Speaking on the occasion, Ambassador Sayeed stressed on the importance of mobility for leading a healthy lifestyle, which Gandhi exemplified and led by personal example throughout his life.

He thanked the participants for turning up in large numbers on a Friday morning. He also thanked the Saudi Cycling Federation, Diplomatic Quarter Authority and Diplomatic Quarter police for their association and cooperation in making the event a success. He gave away mementos as a token of appreciation.

All the participants were distributed t-shirts and certificates of participation on the momentous occasion.
It was one of the first events of its kind and reflects the growing strategic relations between India and Saudi Arabia especially after the historic visit of Indian Prime Minister Narendra Modi to the Kingdom in 2016 and the state visit of Crown Prince Muhammad Bin Salman to India in February this year.