Indian Americans protest at Pakistan Consulate on Feb 22nd to stop Global Terrorism sponsored by Pak
www.mangaloretoday.com
Feb 28, 2019 - New Jersey/New York, Feb 22, 2019: About 600 people from Indian American community protested against Pakistan outside Pakistan Consulate, New York for its cross border terrorism in India and Afghanistan and sponsorship of Global Terrorism that affected many countries around the world.. They condemn the dastardly attack on CRPF personnel in Pulwama, Jammu & Kashmir state on Feb 14th, 2018. Forty lives were lost in the cowardly act by Pakistan based Jaish-e-Mohammad headed by Masood Azhar .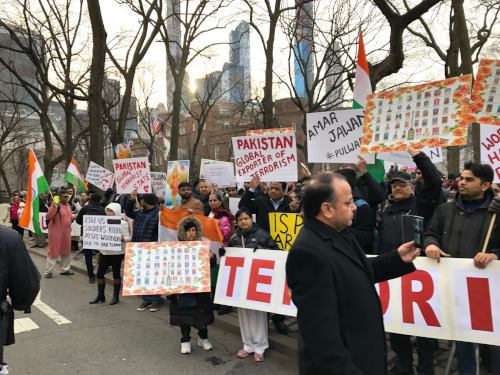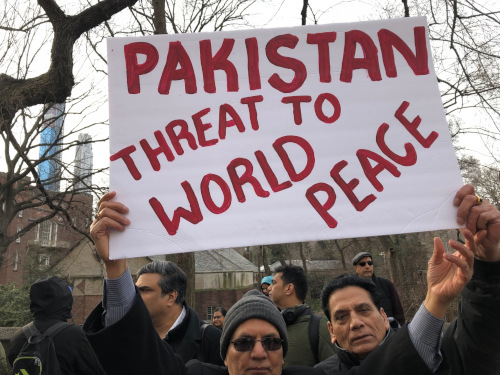 People joined the protest from New York, New Jersey, Connecticut, Pennsylvania and Delaware. Many men and women from across different organizations, seniors and professionals, students from universities have joined to express their pain for the families of soldiers who lost their lives and disgust at the continued state sponsorship of terrorism by Pakistan across the world. They raised slogans about all major terrorist attacks originating from Pakistan such as Mumbai 26/11 attacks, Pulwama and URI attacks, 2001 Indian Parliament attack, 9/11 US attacks, Kabul US Embassy attacks, London bus and subway bombings, Germany embassy attack among the many terrorist attacks that are perpetrated by those who are nurtured, protected and funded by Pakistani establishment. Slogans and posters threw light on the many terrorist Organizations that grew out of Pakistan soil with active support of Pakistan establishment such as Al-Qaeda, Lakshar-e-Taiba, Jaish-e-Mohammed, Haqqani network, Taliban, Laskshar-e-Omar, Sipah-e-Sahaba, JKLF.

United States has lost thousands of army personnel in Afghanistan. India and the US are the biggest victims of the proxy war perpetrated by Pakistan's army and its intelligence wing ISI with its duplicity of seeking financial aid to curtail terrorist activities which is largely siphoned off by military establishment and at the same time stoking it and sponsoring it with active support. Billions of dollars of US aid to Pakistan (18 billion since 2001) has done little to curb the terror outfits to Pakistan.


Pakistan has become a safe haven to agents of terror such as Osama Bin Laden, Masood Azhar, Rashid Rauf, Hafiz Saeed, Jalaluddin Haqqani. It is a factory of terrorists produced in the largest number of extremist madrassas that are funded by Saudi Arabia. These terrorists were trained, nurtured and protected by Pakistan military establishment to create havoc in many countries, including US, UK, Germany, Afghanistan and India.

Protestors highlighted the many statements made by leading American leaders such as Mike Mullen, former Chairman of Joint Chief of Staff who described the Haqqani terrorist group that attacked Kabul US Embassy in 2011, 'a veritable arm of Pakistan ISI' and that of US Lawmakers such as Ted Poe who noted, that 'Pakistan is a state sponsor of Terrorism'. The Press Release to the event also noted that it was Pakistan ISI general Mahmood Ahmed who ordered Omar Sheikh to transfer 100,000 dollars from Pakistan to 9/11 lead hijacker Mohammad Atta while at the same time having meetings with lawmakers on how Pakistan can cooperate with US in its war on terror!

As per 2015 statistics 47,000 people including security personnel are believed to have lost their lives due to Pakistan supported insurgency in Kashmir, India. While Pakistan establishment is enriching itself, Pakistan people are also paying enormous price to the policies of supporting terrorists. Indian leaders have reached out to Pakistan for peace many times, but Pakistan answered with terror attacks every time.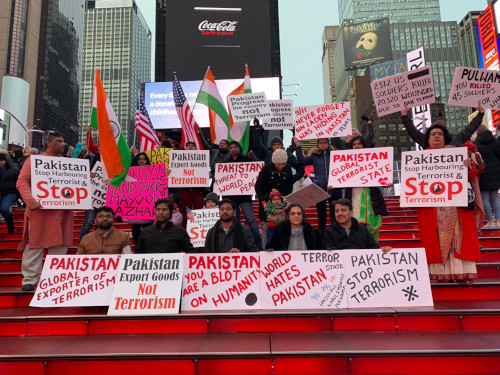 The protestors demanded that Pakistan must take credible and visible action against the perpetrators of Pulwama and Mumbai terror attacks, dismantle the infrastructure of terrorism from Pakistan's soil, end its support and sanctuary to all terrorist groups operating from its soil, hand-over Masood Azhar to India to face trial, ban all terrorist organizations operating from Pakistan's soil including JeM, LeT and others, set-free Kulbhushan Jadhav immediately, and hand-over international criminal Dawood Ibrahim.

Pakistan has been ruled by military dictators over half of its history since its independence. Pakistan Army's policy of terror as an instrument caused immense pain and suffering around the world and cost many lives. Pakistan army must understand that their actions have serious consequences. Indian Americans urge the world community to sanction Pakistan's army generals and ISI leadership, freeze their assets around the world and declare Pakistan as a Global Terrorist State. These people must be brought to justice for abetting the terrorist activities around the globe.


This protest is among series of protests against Pakistan sponsored terrorism and candle light vigils for fallen soldiers spontaneously held across the world such as - Melbourne/ Sydney in Australia, Japan, London, LA/Chicago/Houston/DC/NJ/Indianapolis/Troy, Michigan/Allentown, PA/Bay area cities in USA, Canada, Frankfurt/Hamburg/Munich/Berlin in Germany.

Few protestors attempted to submit a memorandum to Pakistan Consulate, but they refused to take it. After the protest at Pakistan Consulate, some of the protestors gathered at the iconic Times Square in Manhattan, New York, for a photos of the messages.