Dubai: Preparations in full swing for Patla Sambhrama - 2019
Mangalore Today News Network
Dubai, Oct 17 2019: Work related to Patla Sambhrama - 2019, which will be held on Friday October 18 at the Sheikh Rashid auditorium in Karama of the city, is in full swing.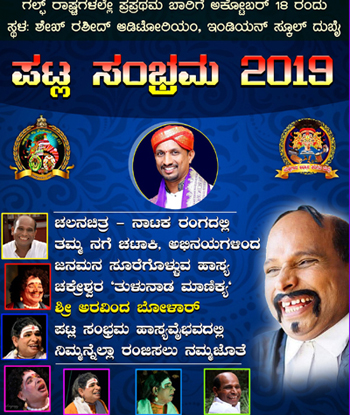 Renowned Sandalwood actor Puneet Rajkumar, well-known entrepreneurs of Dubai Ronald Colaco and Dr B R Shetty will partake in this event.

Gates will open at 3.30 pm for the programme. Dinesh Shettigar Kodapadavu and cine actor Aravind Bolar will tickle the ribs of the audience with their comedy.

All the guest artistes from the motherland have reached Dubai to take part in the programme that will be led by Gana Gandharva Yaksha Dhruva Patla Satish Shetty.

Bhagavathike will be done by chief Bhagavatha of Sunkadakatte Mela, Karunakar Shettigar Kashipatna. He will be supported by Padmanabha Upadhyaya and Dayanand Shettigar in Chende-Maddale. Guest artistes Dinesh Shettigar Kodapadavu, Kannadikatte Sadashiva D Shettigar Kinnigoli and Sachin Amin will don the main roles in the Yakshagana.

Make up will be done by Gangadhara D Shettigar and Nitin Kumapala.

The Yakshagana 'Mahishamardini Jagajjanani' is definitely going to entertain the lovers of this art. More than 50 stage and backstage artistes will present 85 different roles in front of the audience. In a press release, organizer of the programme Kottinja Dinesh Shetty has requested everyone to extend their fullest cooperation to make this event a grand success. President of the unit, Sarvotham Shetty Abudhabi and secretary Vittal Shetty were present at the meeting.