Covid-19: UAE expats hail Kerala's free PCR tests for travellers
Mangalore Today News Network
Dubai, Feb 27, 2021: The south Indian state of Kerala on Friday announced free RT-PCR tests for travellers arriving from abroad — a decision that lifted the mood of the vast UAE expat population hailing from the assembly election-bound state.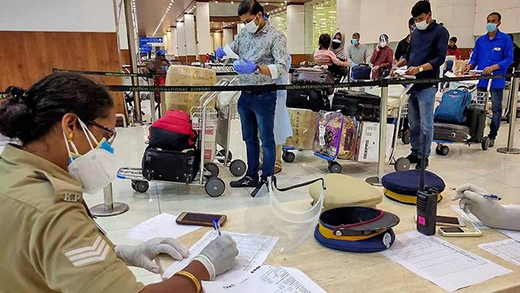 Since February 22, pre-travel PCR tests were made mandatory for all international passengers arriving in India, including children. Currently, the Covid test is being conducted in at least eight airports in the country, including Mumbai, Kolkata, Kerala (Kochi and Thiruvananthapuram), and Delhi airports. Airports are charging different prices and the latest announcement makes Kerala the only state to offer the tests free of charge.

Mohamed Afsal, a pharmacist in the UAE, said the decision shows how the state government 'understands the plight of the overseas working class'.

"This is great news for Keralites and our brothers from neighbouring states who land in Kerala airports. For most people, shelling out Dh100 or more on a RT-PCR test is not a worry but for poor workers who spend even a dirham with a second thought, this comes as a great relief," said Afsal, a resident who hails from Thrissur district. With the mandatory on-arrival Covid tests, most India-bound passengers were advised to carry at least Rs2,000 (Dh100) each to pay for the procedure.

During a Press conference in Thiruvananthapuram, Kerala Health Minister K.K Shailaja said: "The state government has decided to offer free PCR tests to those returning from abroad. The PCR tests at airports are made mandatory by the decision taken by the Central Government because of a threat of a second wave witnessed in the country."

He reminded that after taking the test, people should remain in home quarantine until they receive the result. "We will send the result quickly," the minister added.

Mercy Skaria, a resident who works as a CAD specialist, lauded Shailaja Teacher — as the minister is popularly called.

"We need such ministers who take proactive steps for the benefit of the masses. I appreciate the Kerala government for this move and the central government for taking precautionary measures as the number of cases are rising in India," the native of Ernakulam district said. "As a responsible UAE resident and an Indian national, I hope everyone in the community joins together in this fight against the pandemic."

Welcoming the decision, Anvar Sadath Nalakath, a customer support and sales executive, hoped the mandatory test requirement for children would also be revoked.

"The free tests will benefit not just the poor but also the middle-class categories. For example, for families with four members, the cost will be some Dh500 in total. I still hope the mandatory PCR test for children and infants are waived off. They can try saliva tests for children under 12 years old like done here in Abu Dhabi," said Anvar, who hails from Malappuram district.
Courtesy:Khaleej Times