Combating coronavirus: Second batch of 105 medics from India arrives in UAE for Covid-19 mission
Mangalore Today News Network
Abu Dhabi, May 20, 2020: A team of 105 healthcare professionals from India landed in Abu Dhabi on a mission to treat Covid-19 patients. On Wednesday morning, the UAE-based VPS Healthcare brought the team of critical care nurses, doctors, and paramedics, on a specially chartered Etihad Airways.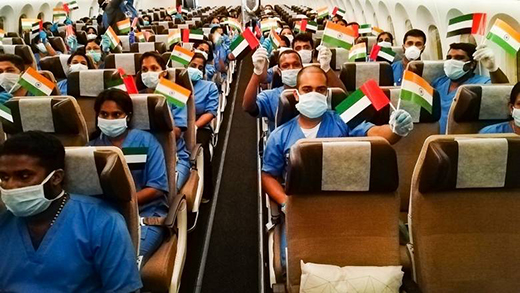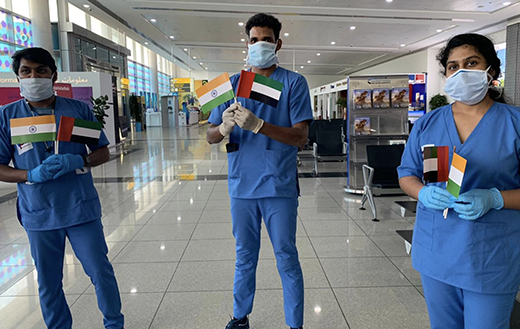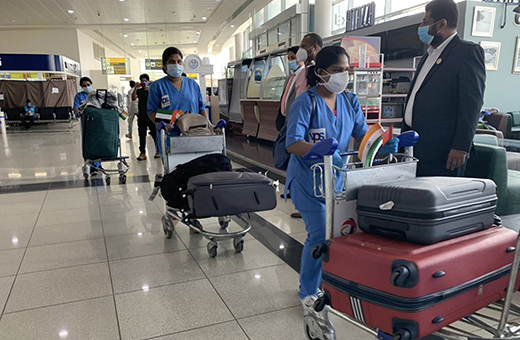 The Etihad Airways EY 281 landed here at 6.54am from Kochi. Holding flags of India and the UAE, they walked out of Abu Dhabi International Airport well-aware of the task ahead.

As the UAE intensifies its fight against the pandemic, these professionals will be working in the critical care unit of various Covid-19 hospitals in the country.

This is the second batch of nurses to arrive in the UAE after initial 88 staff joined frontline duties last week. This initiative was facilitated by Indian Embassy, Department of Health - Abu Dhabi and UAE's Ministry of Foreign Affairs and International Cooperation.

Indian Ambassador to the UAE Pavan Kapoor said such initiatives are reflection of long-standing and robust bilateral ties.

"This is an excellent example of how our strategic partnership with UAE is being implemented on the ground in the area of health care. We have always emphasised the strength of collective effort in fighting this pandemic. India and UAE are now showing how helpful this can be in practice."

There are 75 new recruits from India and rest employees of VPS Healthcare who were stuck in India while they went on leave.
'Our responsibility and duty'

"We are fighting an unprecedented situation. The UAE government has been rolling out a lot of initiatives across the emirates to contain the virus. We are happy and humbled to be a part of this. Bringing a medical team is a part of our continuous effort in supporting the government.

It is our responsibility and duty," Dr Debouni said.

He thanked India and the UAE governments for their support in bringing the medical team to Abu Dhabi.

"Ever since we discussed this with the authorities, we have received overwhelming support from the Indian Embassy, Department of Health, Ministry of Foreign Affairs and International Cooperation, and the Indian government."

All the members of the medical team are from Kerala and had undergone a Covid-19 test on Monday in Kochi before they boarded the flight to the UAE.

Proud moment for everyone

Vinod Sebastian, one of the senior nurses among the medical team, said it is a proud moment for each of them.

"It is our duty to serve and treat the patients during this unprecedented crisis. For the majority of the nurses in the medical team, it is their maiden journey to a foreign country. All of them are extensively experienced in critical care. We are very confident and motivated. We are taking it up as a challenge."

Vinod had served as a frontline volunteer when Kerala faced devastating floods in 2018 and 2019.
Courtesy: Khaleejtimes