Ajman Ruler awards over 107 degrees on 13th Gulf Medical University convocation ceremony
Mangalore Today News Network
Ajman, November 23, 2016: Under the patronage of His Highness Sheikh Humaid Bin Rashid Al Nuaimi, Member of the Supreme Council, UAE and Ruler of Ajman, Gulf Medical University (GMU) honored the achievements of 107 graduates at the 13th Convocation Ceremony held on Wednesday, 23rd November, 2016 in the Emirates Hospitality Centre, Al Jurf, Ajman.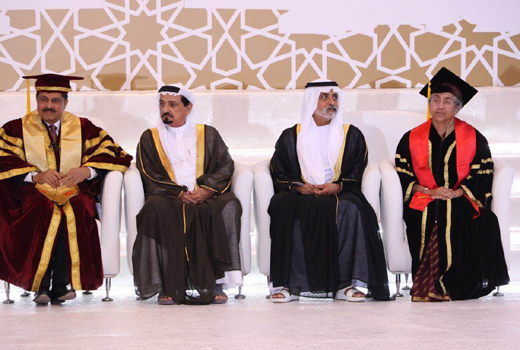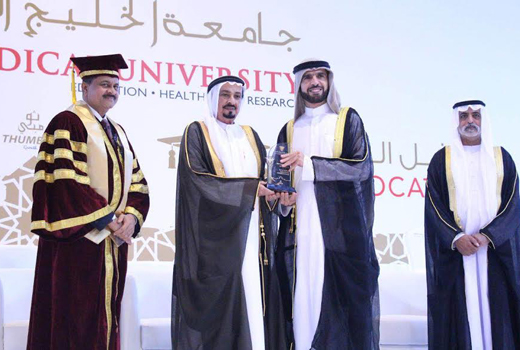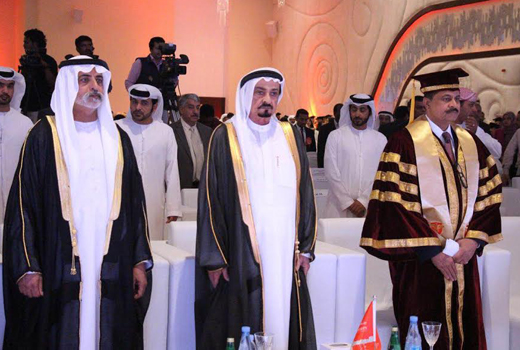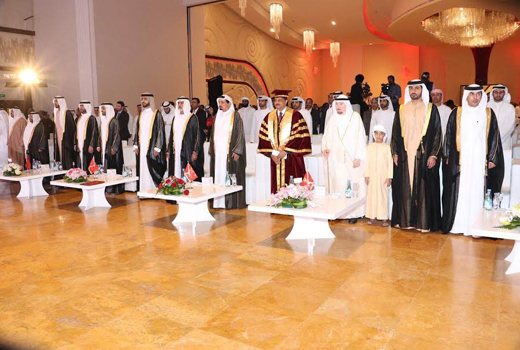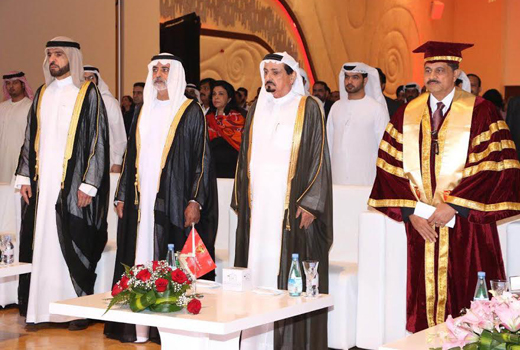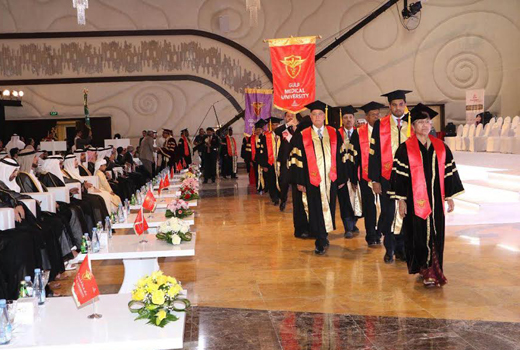 Commending the students for academic excellence, H.H. Sheikh Humaid Bin Rashid Al Nuaimi said, "Today's event is a strong indicator that each student present here was determined was determined to reach their educational goals, irrespective of the obstacles they face. With hard work and perseverance, they all found solutions, fought challenges and got it done. Your achievements and dedication is impressive. We hope the knowledge you have received at GMU will help the society and nation through your work."

A total of 107 students were presented gold medals, including 54 MBBS, 18 dentistry, 17 pharmacy, 16 physiotherapy and one each for clinical pathology and public health courses. The outgoing students belonged to 27 different countries: UAE (11), GCC (5), and Other Arab nations (14), Asia (40), Africa (21), Canada (6), USA (7), UK (1), New Zealand (1) and Sweden (1).

Addressing the gathering, Mr. Thumbay Moideen, Founder President, Board of Governors, Gulf Medical University (GMU) said, "Today's ceremony will go down in the history of each one of your lives as an occasion marked withdeep joy of achievement and pride- not just for the students, but also for their families as well as for the university. At GMU, we have always believed that access to good education would be the building blocks to a brighter future. And thus, honoring your academic accomplishments today, we celebrate the ideals, aspirations and goals that shape our lives as members of the GMU community. The university, including its faculty and staff, all hold a very near and dear place in their heart and always will for the students. We wish you continued success and encourage you to make GMU everywhere proud."

Mr. Moideen also thanked H.H. Sheikh Humaid Bin Rashid Al Nuaimi for their unconditional support to the institution at all times. He, also congratulated the leaders of U.A.E. on the 45th National Day (Spirit of the Union). "We reassure you that Thumbay Group along with its 19 business entities will continue to strive our level best to keep up with the aspirations of the Ruling Family of Ajman and the people of UAE", Mr. Moideen added.

Thirty one graduates from GMU successfully completed their summer training program in both local and 29 centers abroad in UK, USA, Canada, Hungary, Thailand, Singapore, Malaysia, Qatar and India.

The Provost of GMU, Prof. Gita Ashok Raj also acknowledgedthe support of all the hospitals and medical centers in UAE whoparticipated in the clinical training of these students. "I would like to take this opportunity to remind each student here that do not forget to renew your ties with GMU at the Annual Global Alumni Summit to be held annually and share your achievement and success. We believe in you and wish you luck in your future endeavors as a medical practitioner, "she concluded.
Recently, the university launched the 'GMU Startup Lab', which will support aspiring medical entrepreneurs to transform their business ideas into reality. The program will provide mentoring and support to GMU's alumni and students through various workshops, referrals and financial pooling.

About Gulf Medical University:
Gulf Medical University has opened the doors for admissions to its 2017 batch. With the launch of its twinning MBBS program with the Ghana University, the GMU campus has added a new feature to provide quality education in unexplored regions. Prospective students will undergo the two years of pre-clinical phase at GMU leading to an 'Associate Degree in Pre-Clinical Sciences' followed by a 3 year clinical phase at University of Ghana. Upon successful completion of the 5 year program, the students will be awarded the MBBS Degree by Ghana University.

The Gulf Medical University (GMU), owned and operated by Thumbay Group headquartered in DIFC (Dubai), is presently the most sought-after private medical university in the UAE. It is the first private medical university in UAE catering to all nationalities admitting students of both genders, presently having students from over 73 nationalities, and faculty and staff from 22 nations. GMU offers a range of courses including MBBS, BPT, DMD, PharmD and Masters Programs in Clinical Pathology, Public Health, and Toxicology. GMU is first in the region to launch unique programs like Masters in Human Reproductive Biology, Bachelor of Biomedical Sciences and Masters in Physical Therapy.

GMU's campus is the venue of both of its dedicated research centres: Centre for Advanced Biomedical Research and Innovation (CABRI), that forms the hub of the biggest laboratory chain in UAE with four full-fledged laboratories and sample collection centers across the various Emirates and the Center for Advanced Simulation in Healthcare (CASH), a multidisciplinary educational facility integrating simulation as an educational tool for providing a state-of-the-art, safe learning environment that promotes professional development. Center for Advanced Simulation in Healthcare is a member of various International Simulation associations and organizations like Society in Europe for Simulation Applied to Medicine (SESAM), Denmark, Australian Society for Simulation in Healthcare (ASSH), Association of standardized patient education (ASPE), Society for Simulation in Healthcare (SSH), Canadian Network for Simulation in Healthcare (CNSH), and Association for Simulated Practice in Healthcare (ASPiH) United Kingdom.

For media enquiries, please contact:
Samar Manzar
Account Manager |samar@promotions.thumbay.com |+971557715643